CC AND MIKE KANE PROJECT REMODEL REVEAL
I am so very excited to share the CC and Mike Kane Project Remodel Reveal today!
This project has a special place in my heart because it was a remodel for my friend Cyndi Kane who lives in beautiful Pawhuska, Oklahoma.  Cyndi has become a dear friend and is a constant source of encouragement to me.  She believes in me even when I might be struggling to believe in myself.  She thinks big and encourages me to dream even bigger than I could ever dare to dream on my own.  She is the catalyst for CC and MIKE THE SHOP and has been instrumental in helping us launch our online e-commerce business.  But most of all, Cyndi is a mentor, wife, mother, friend, and woman of faith whom I look up to and admire greatly.  Being a part of transforming her home into a space that she and her family truly love and enjoy, has been a great honor for us!
Alrighty, firt of all we have to talk background and set the stage for this remodel story. Cyndi lives in Pawhuska, Oklahoma.  If you haven't been to Pawhuska, it is one of my favorite places and you should definitely plan a visit. From the wide-open ranges of the Tallgrass Prairie Preserve, to the Pioneer Woman Mercantile, to P-Town Pizza and the new Pioneer Woman Boarding House, to Osage Outfitters (my favorite place to shop while in Pawhuska) to the art galleries full of one-of-a-kind Native American pieces, Pawhuska is a bustling little Oklahoma town that will leave you feeling energized, refreshed, and completely at peace after you visit.  However, the best part of Pawhuksa, by far, is the people.  As a result of this project and our friendship with Cyndi and her precious family, Michael and I have been able to meet so many people from the great town of Pawhuska.  Their genuine kindness, authenticity, and love for one another are inspiring.  Simply put, this is a town where people help one another and live by the golden rule. John Kane, Cyndi's husband, is a fourth-generation Pawhuskan.  Is that a word? Pawhuskan? If not, I just made it one so just go with it-ha!  So where am I going with all this talk of Pawhuska?  Well, I feel like before I can share this remodel, I need you to truly know the amazing people behind it, and also you need to know that Cyndi and John live in a beautiful home on the top of a hill in Pawhuska that once belonged to John's grandparents.  I mean, how cool is that?  Judge John Kane, Cyndi's husband, is a lawyer as was his father before him, and his grandfather before him. All of them have practiced law in Pawhuska. Talk about a really cool legacy. Hopefully, you are starting to get a picture of how incredibly cool it was to be a part of this project. It makes my heart oh so happy thinking about the Kanes entertaining family and friends around their big kitchen island and in their beautiful new living room (did I mention that white couch is stain-resistant Crypton fabric and is resistant to everything from dog prints to wine to anything kids and grandkids can throw at it?! Because it is, which is pretty incredible since Cyndi is going to have her first grand-baby pretty soon and still has teenagers in the house). Yep.  I've rambled on and on and basically what I want to say is, gosh, we feel so incredibly blessed to have been a part of this remodel but even more-so, to call the Kane family our friends.
OK!  So now that you have the background you need to have about the Kanes, and about Pawhuska, and about this being a third generation home that was built by John's grandparents….let's finally talk about the remodel!
Cyndi had a very clear vision of where she wanted to go with the remodel.  Many of the pictures she showed me had an industrial vibe with a lot of wood and brick and stainless steel.  I also absolutely loved Cyndi's eclectic side, being a self-professed lover of eclectic design myself. I knew we needed to incorporate some interesting elements in the design like brick backsplash, a black statement wall, an art ledge, and large natural wood sliding barn doors on the tv wall. Over time, Cyndi and I came up with a concept and design for her living room and kitchen that we both loved, and I want to share the design boards with you so that you can see how this process of remodeling works.
DESIGN BOARD FOR THE KANE PROJECT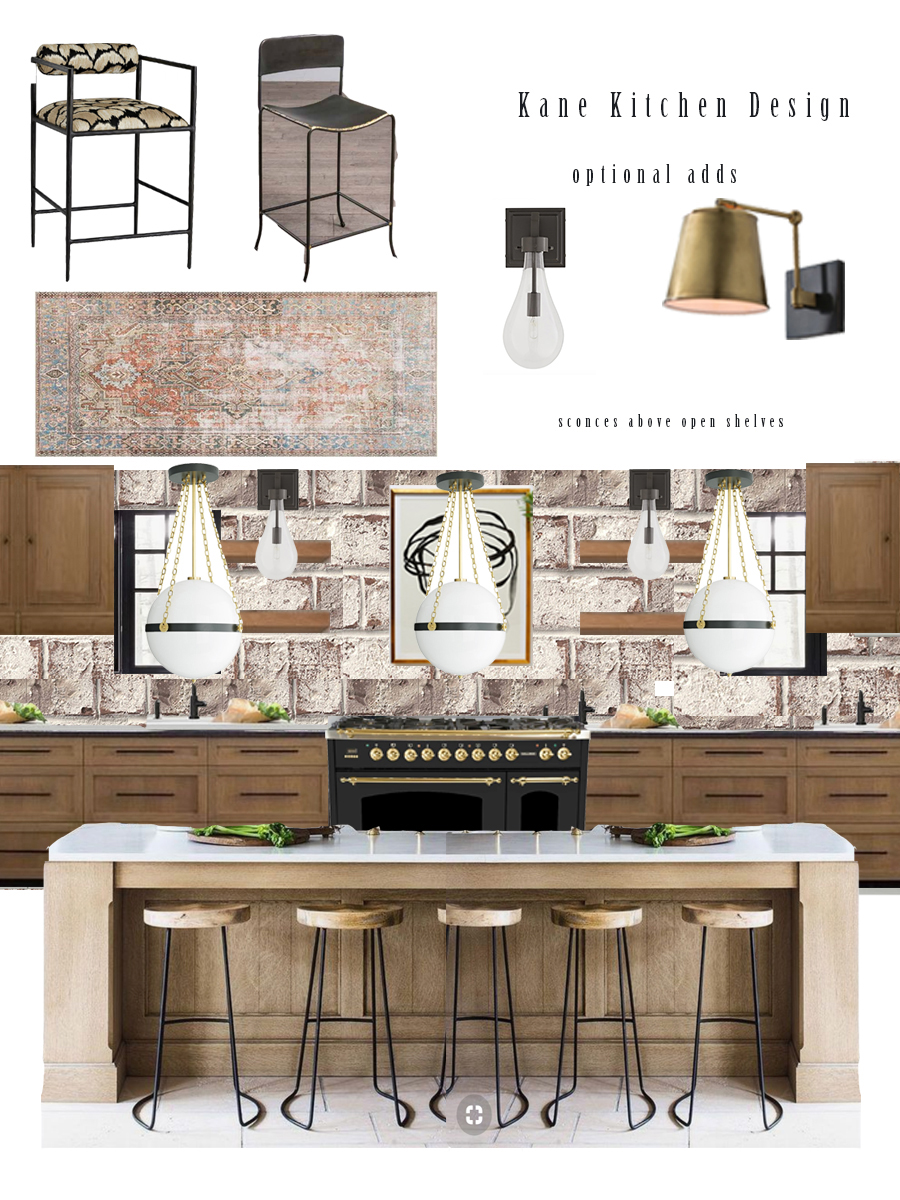 Shop the Kane Remodel Kitchen Products here (more detailed info on products listed below):
From the first time I visited Cyndi's house and met her family, I knew the goal of the kitchen remodel would be to rework with kitchen space and allow for more room and a better flow in the kitchen area.  The Kanes entertain often and their large kitchen island is truly the heart of their home.  However, the fridge was the focal point of the kitchen and the stove was in an area that really didn't make sense and impeded the flow of guests and family members throughout the kitchen.  In addition to this, the kitchen became very congested when people tried to walk to the fridge and open the door and the dimensions of the kitchen island made it difficult for guests to freely roam around, grab a drink or a bite to eat from the fridge, and have a seat at the large bar.  It was our goal to not only fix the flow of the kitchen but also give a fresh, updated look to the entire space. Based on numerous meetings and discussions and inspiration photos that Cyndi shared with me, I came up with the design board above for their kitchen remodel.  Cyndi really wanted to incorporate brick, open shelving, and natural wood cabinets so we did all of the above.  She also has a very eclectic style that resonates with my soul.  As you know, I love patterns, textures, color, and consider myself a girl with eclectic style as well.  Cyndi loves art and wanted to incorporate art in the kitchen as well so instead of a vent hood, Cyndi put a large piece of custom art—a photograph her husband, John, took of their beloved Catholic Church in Pawhuksa.  So without further ado, let's see the before and afters of the Kane kitchen remodel….
 BEFORE PICTURE OF CYNDI'S KITCHEN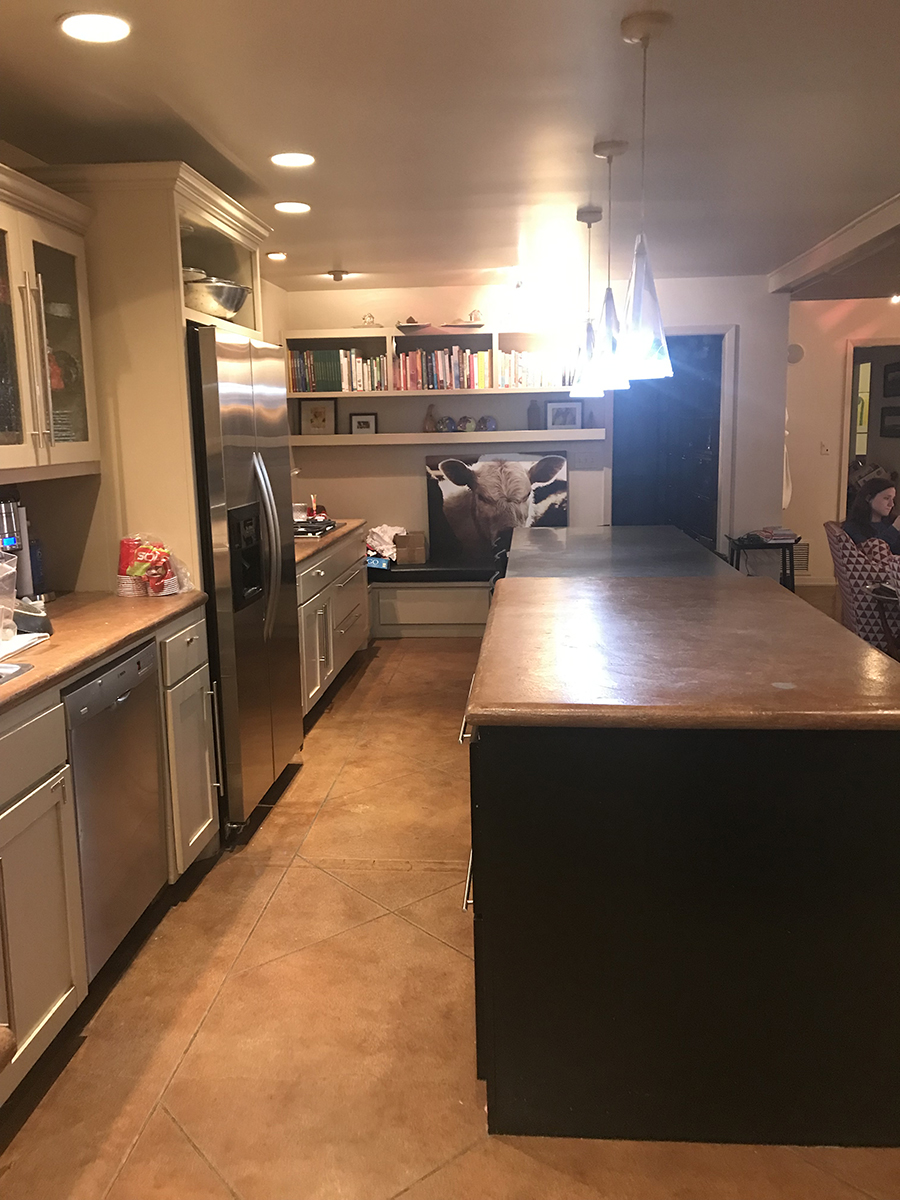 AND DRUMROLL PLEASE….HERE IS THE AFTER! 
As you can see, we rearranged the kitchen by moving the refrigerator to the far wall instead of having it smack dab in the center wall between the windows.  We reworked the size of the island to be a better fit for people to walk around and replaced the countertops with beautiful quartz. We also got a statement-making black and gold Hallman range and put it as the center point of the kitchen with a piece of custom art above the stove. Add the brick backsplash, open shelving, and natural wood cabinets with black hardware….and you have a gorgeous new kitchen that the Kanes (and CC and Mike) LOVE!  Oh, and I have to mention those Saturnus light fixtures because truly, the second I saw them I knew they would be just the perfect piece to finish this kitchen off and pull all of the design elements together.  Gosh, I love those light fixtures and new they were meant for this kitchen the second I saw them.  I also have to mention the Loren rug that is available from CC and Mike the SHOP.  We used the gorgeous rug in the kitchen and the living room and it one of my absolute favorite rugs right now.  I love the versatility and I love all the different colors you can pull out of the rug.  Additionally, the colors in the rug make it a great choice for family rooms, kitchens, and bedrooms because it is dark enough not to show stains but not too dark that it looks heavy in a room.  I highly recommend this rug if you are looking for the perfect new statement for your living room, master bedroom, dining room, kitchen runner, or even just hallway runners.  You can't go run with the terracotta Loren rug that we used in this remodel.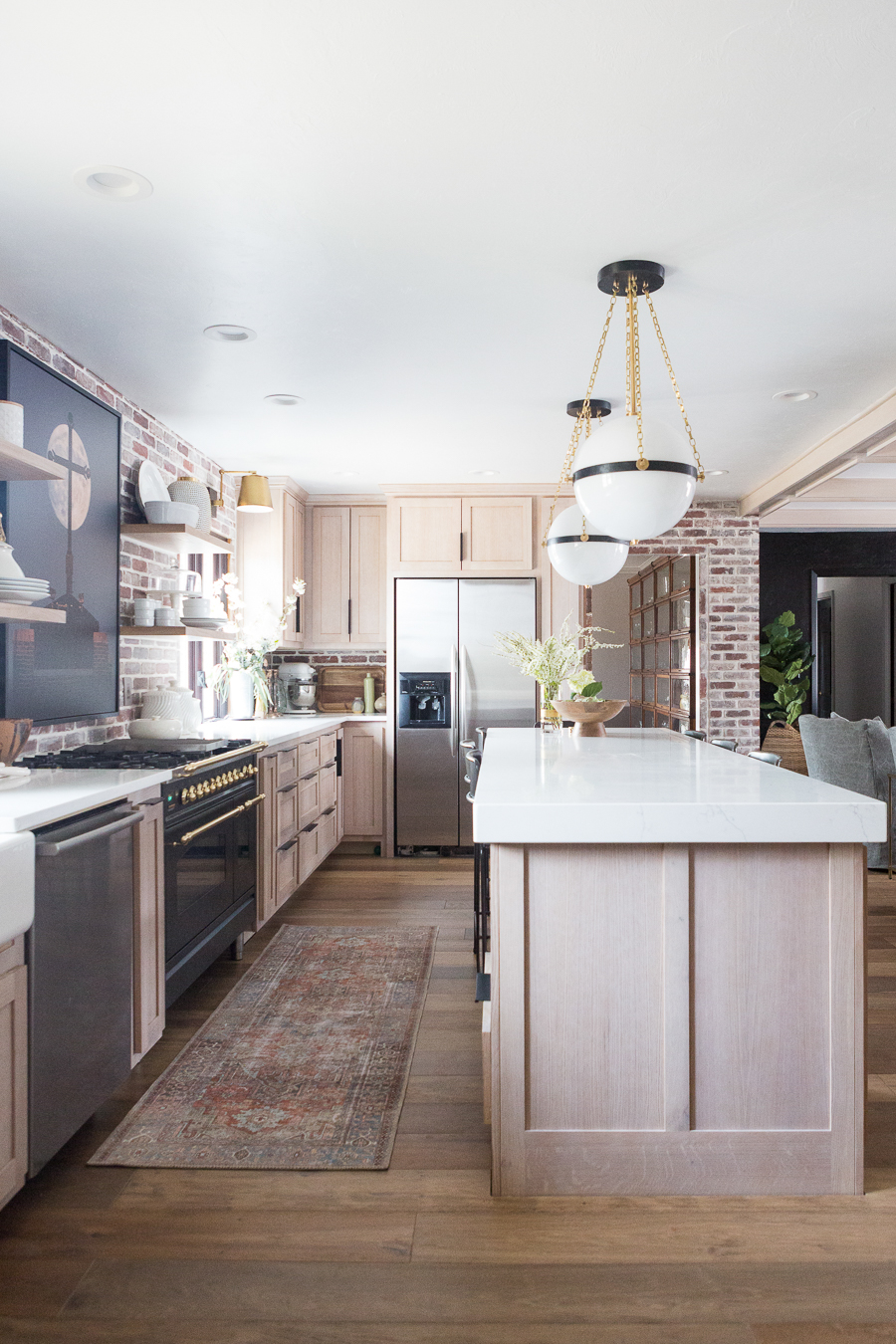 KITCHEN DETAILS:
Loren Rug | Saturnus Pendant Light Fixtures | Sconces | Sink | Faucet | Hardware |  Hallman Range
Cabinets: The cabinets are rift sawn white oak cabinets.  These are truly a work of art and natural wood cabinets are so gorgeous!  You have to be very careful when staining these cabinets though or else they will turn out looking orange or pink.  The trick is having your painter add some white into the stain mix.  It's imperative to do a few stain samples on the inside of a cabinet and check it after it dries before you stain all the cabinets.
Brick Backsplash:  OK so here are the deets on the brick backsplash.  We used a product from Home Depot called Old Mill Brick.  It is a thin brick single that is perfect for use in interiors.  It's easy to work with and is much thinner than regular brick so it can be used on walls and for backsplash.  We also used this product for the vent hood area in the Rebsamen remodel so as you can see, it's extremely versatile and is a great product to use if you're wanting to incorporate brick into your interiors.  For the Kane remodel, we used a custom mix of Castle Gate Old Mill brick and Dark Castle Gate.
Quartz:  Calcatta Lincoln 3 cm quartz
Wood Floors: All the wood floors are from Mill Creek Carpet and Tile.  If you are looking to add engineered wood floors to your next home project, we highly recommend using Mill Creek.  Their selection is phenomenal and their customer service was top notch.  We are also using Mill Creek Carpet and Tile for our Jenks House Flip we are currently doing and we have used them for all our tile selections.  Mill Creek has a custom made selections board with all our CC and Mike favorites so you can just go in and ask for the CC and Mike special and they can help you out.  Just wait til you see the black and white buffalo check tile and patterned tile that we are using in our flip house.  Trust me, we fell in love with it and so will you.  But back to the wood floors, for the Kane project, we selected the Villa Belize brand of engineered wood floors and the specific type we used was GELA.
You can shop some of our favorite kitchen staging items from West Elm, Pottery Barn, and Walmart here: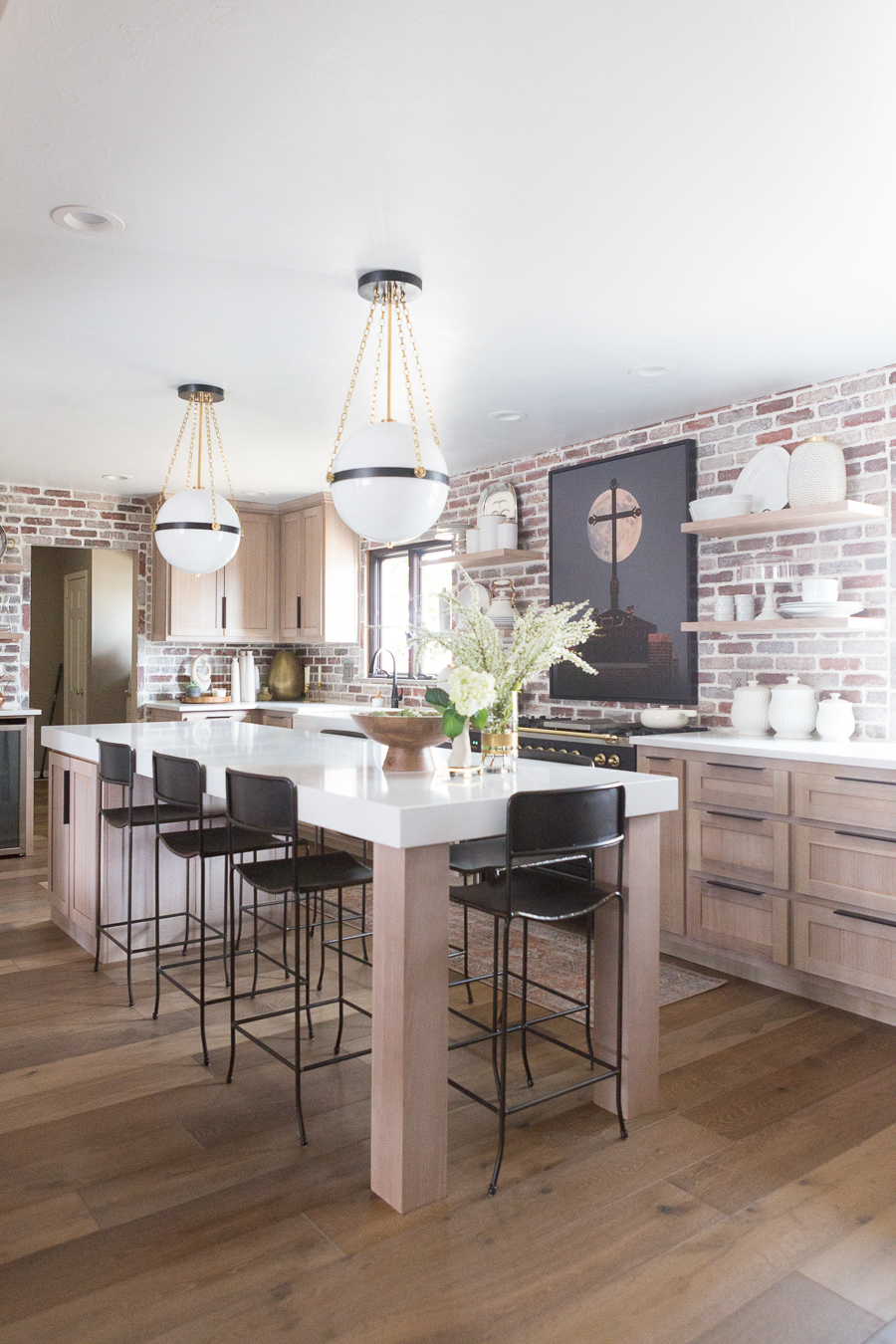 These bar stools are a must mention as well.  They are available in CC and Mike the SHOP and the price point is incredible.  They also are extremely comfortable, durable, and mess-free since they can just be easily wiped down! I highly recommend these bar stools, especially paired with natural wood islands and white islands.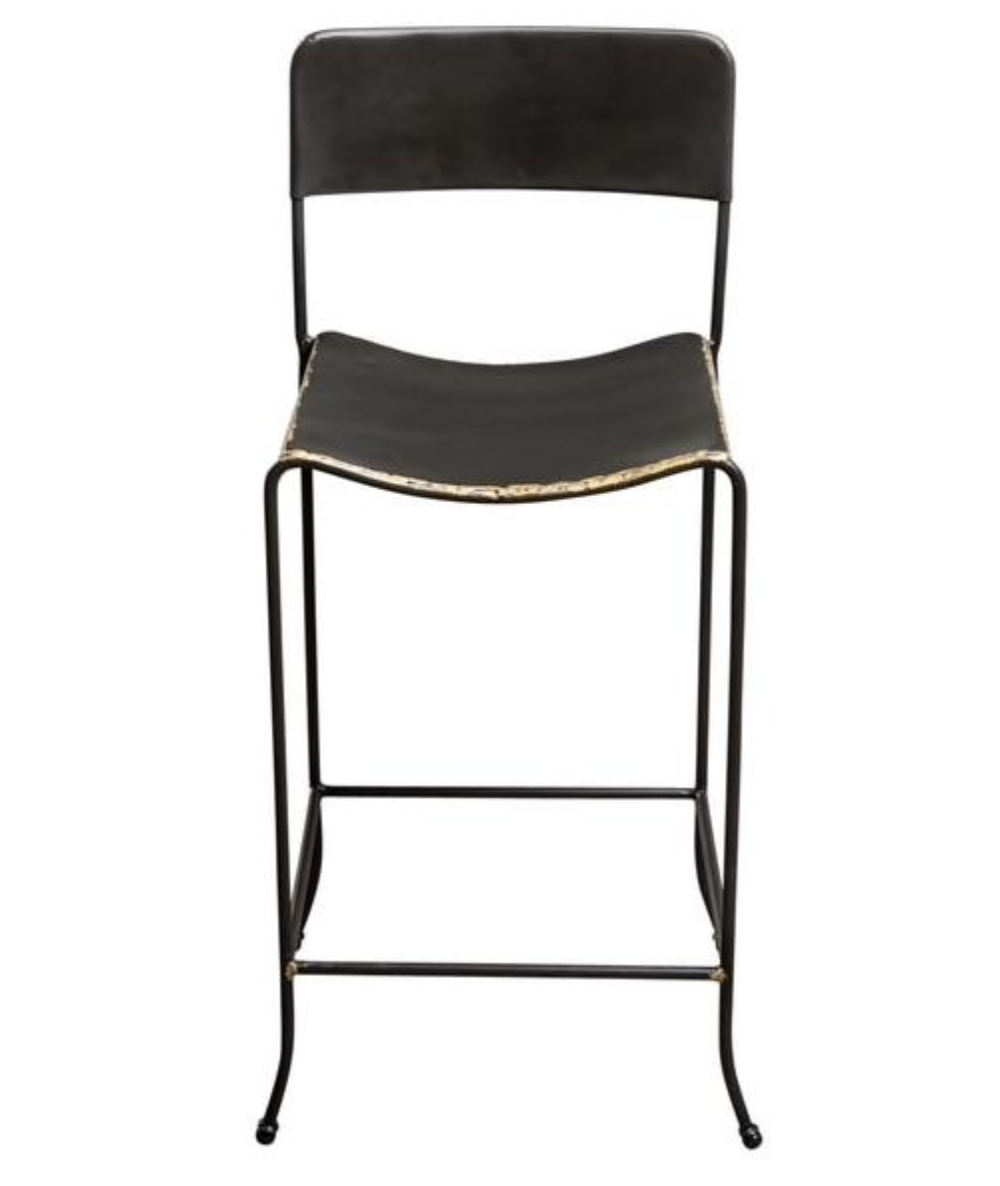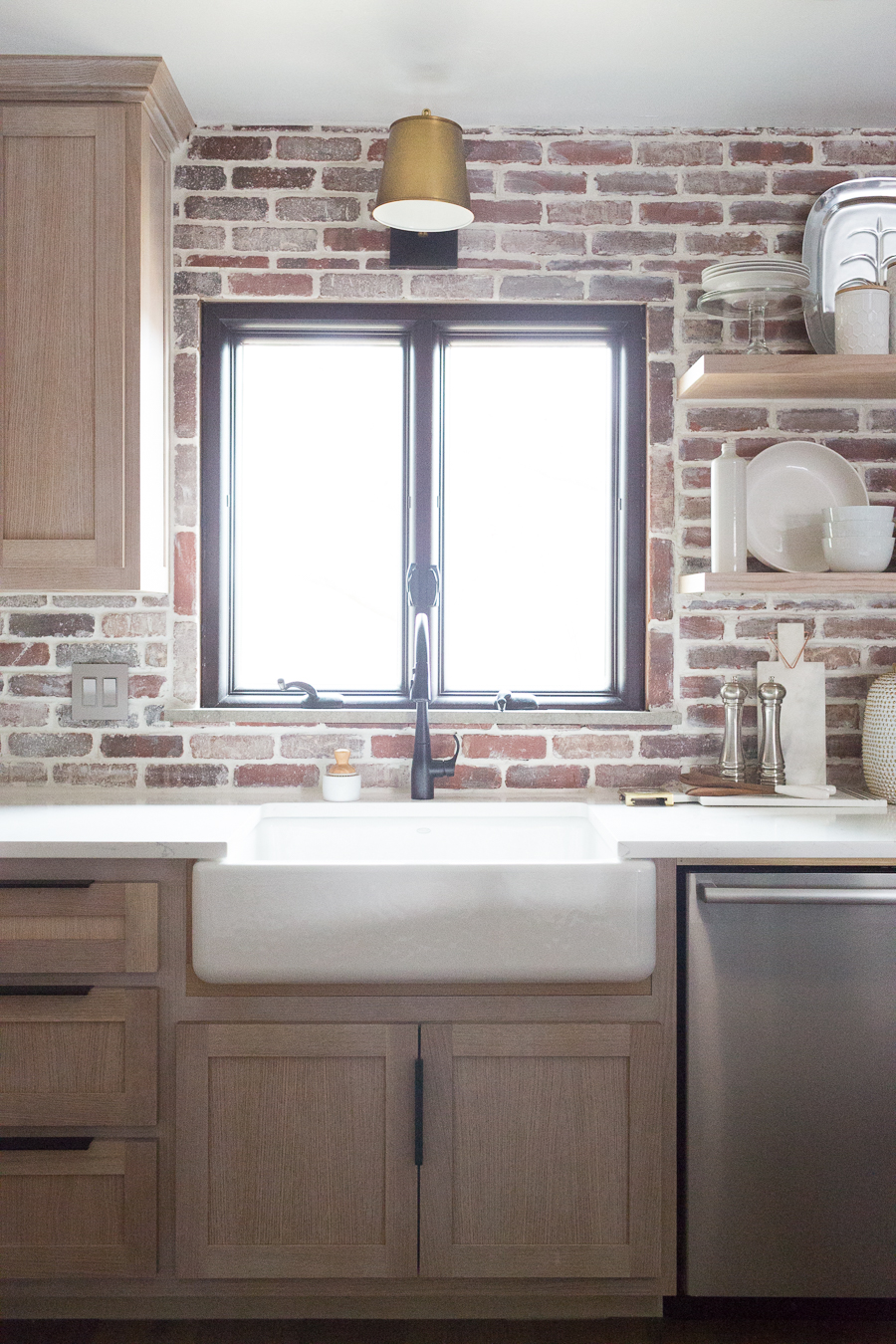 This area of the kitchen remodel was very important because one of our goals was to add a little bar and drink area.  As mentioned previously, when the Kanes entertained the kitchen would become congested at times and this little area now allows guests to just come in and grab a drink without walking through the main kitchen area.  The beautiful custom art you see is called OSAGE RAIN and it was commissioned for this space by Cyndi by Tulsa artist Brent Brander.
Let's talk about the lighting you are going to see as well because it is a must-mention.  I love the use of the library sconce in the bar area (pictured below).  This sconce is from Hudson Valley Lighting and it is available in CC and Mike the Shop.
SHOP KITCHEN LIGHTING: 
You can also shop some of our favorite bar items here: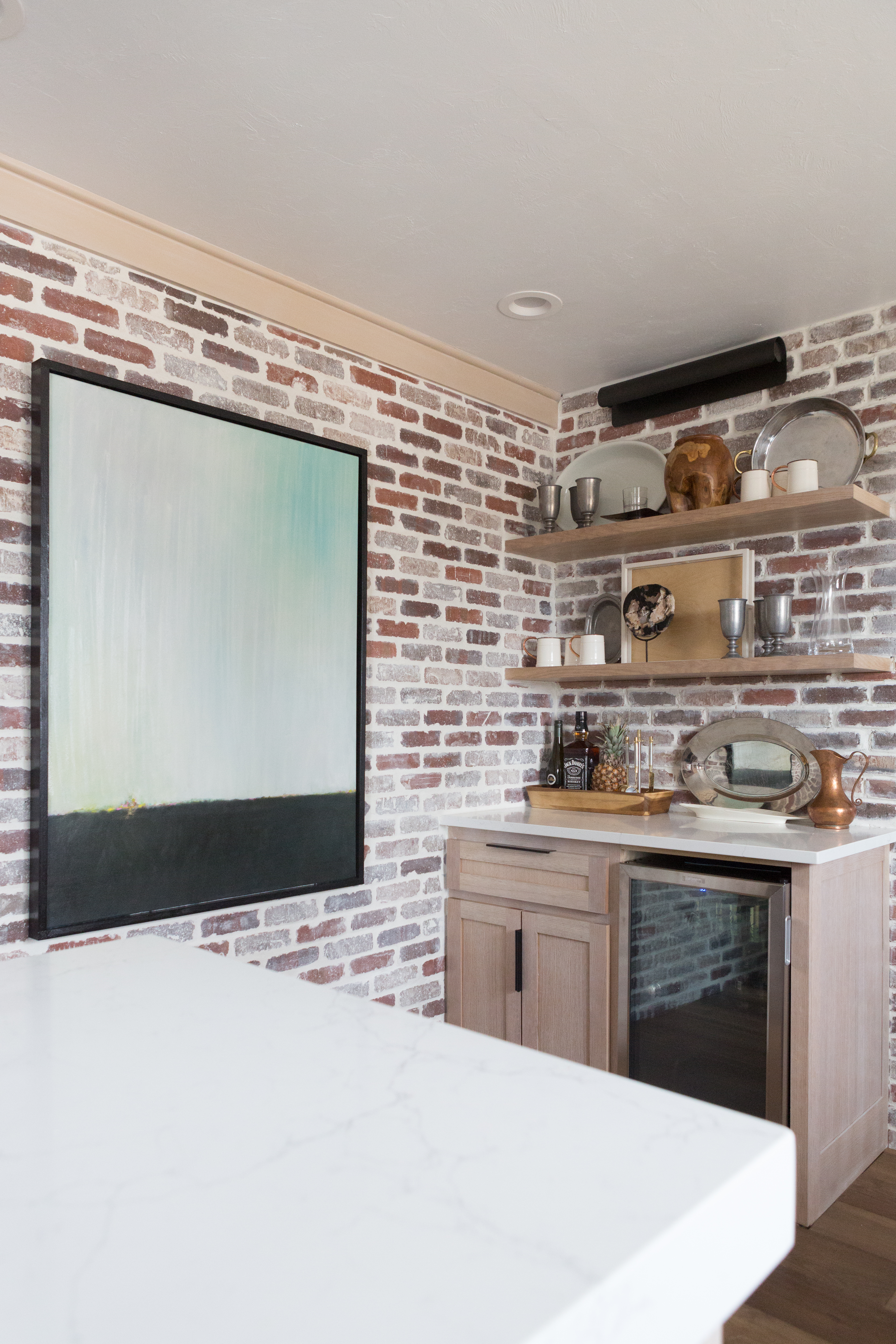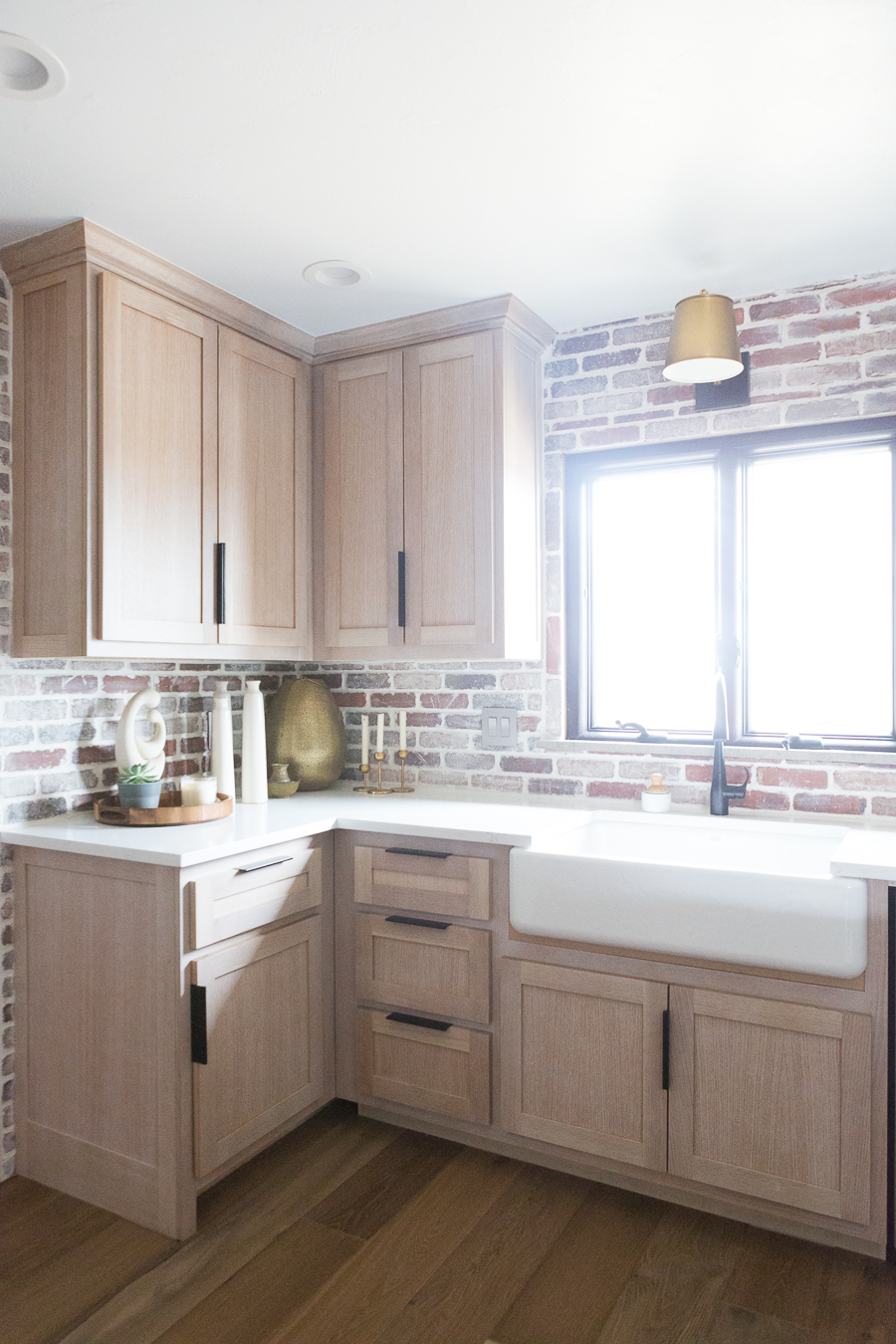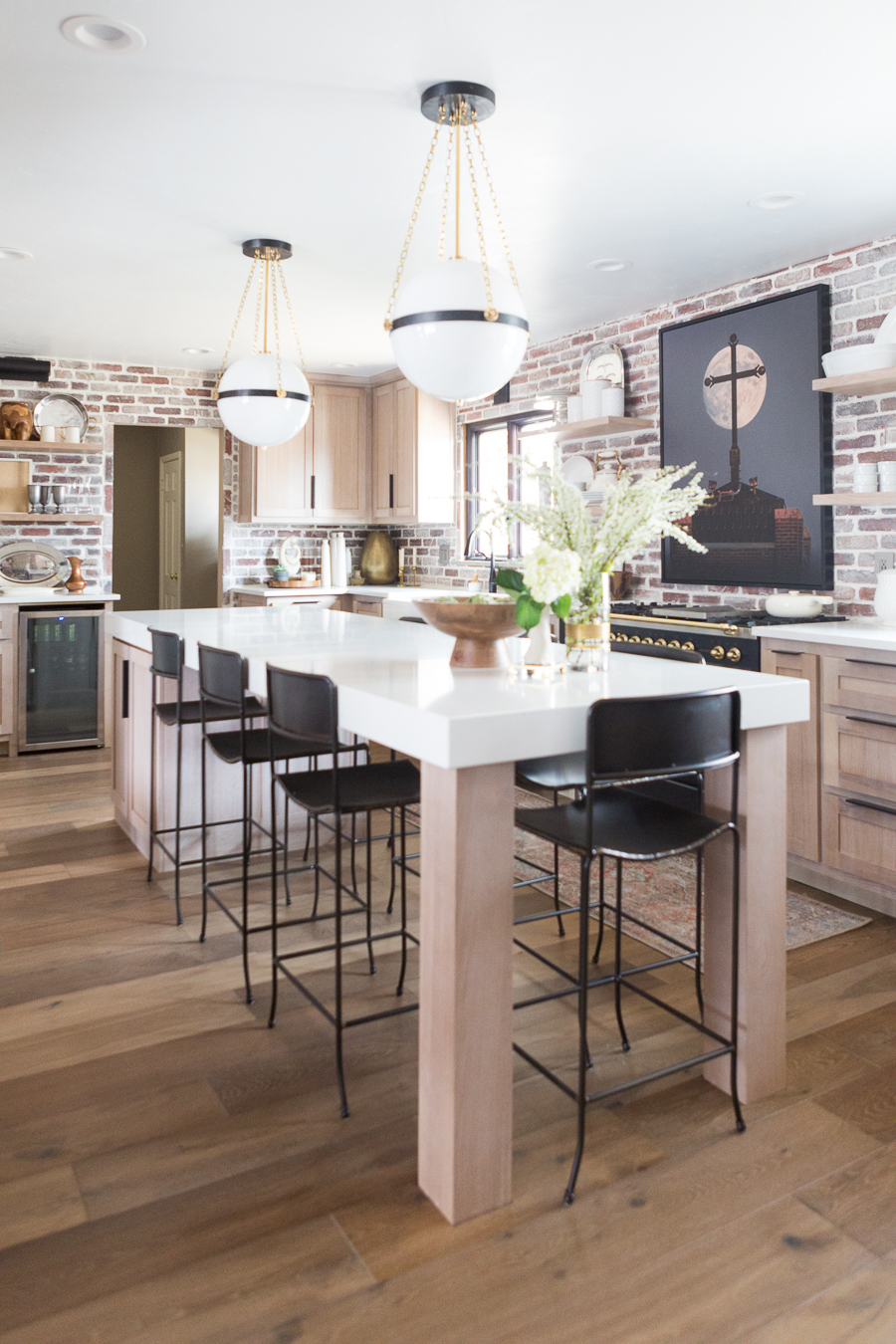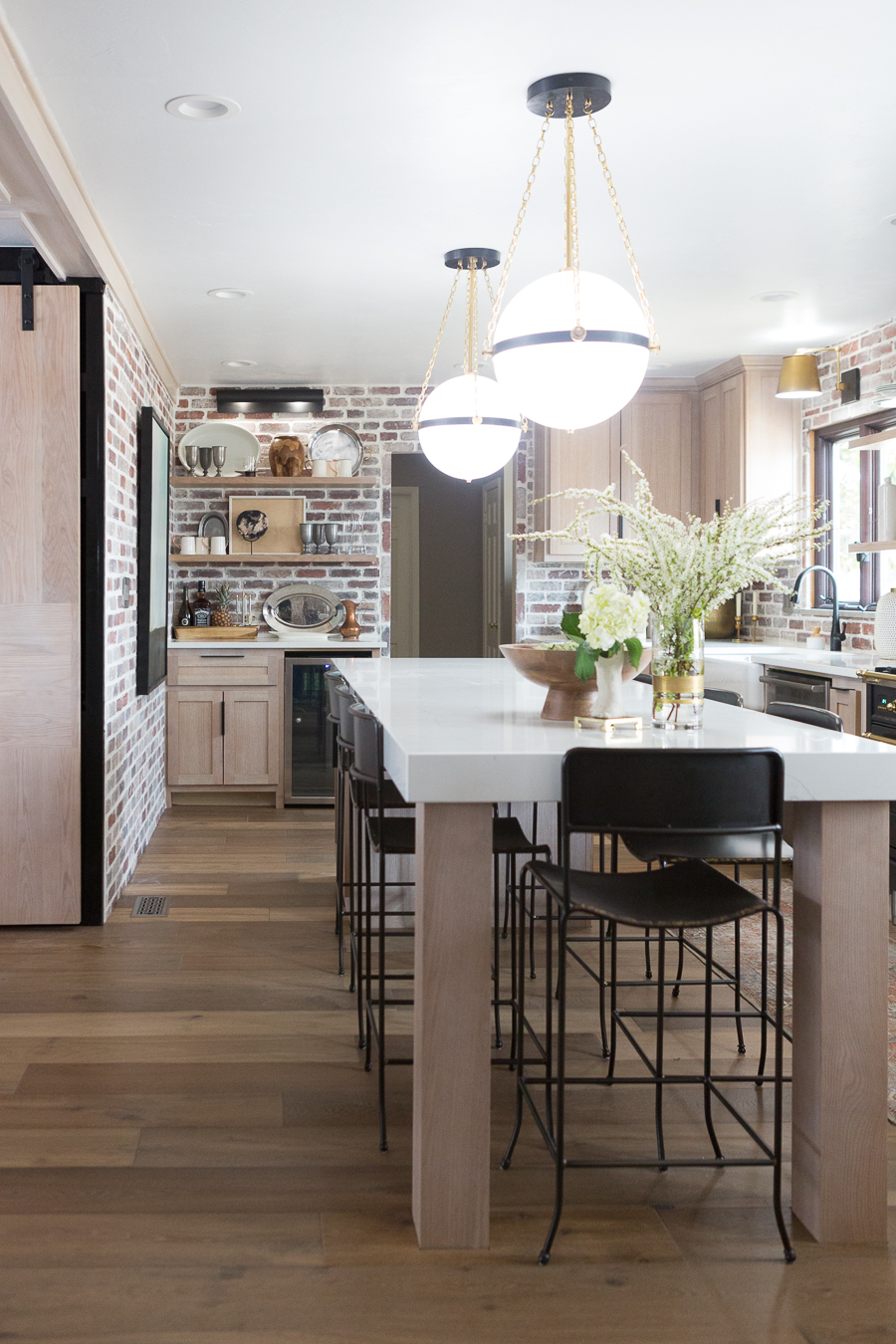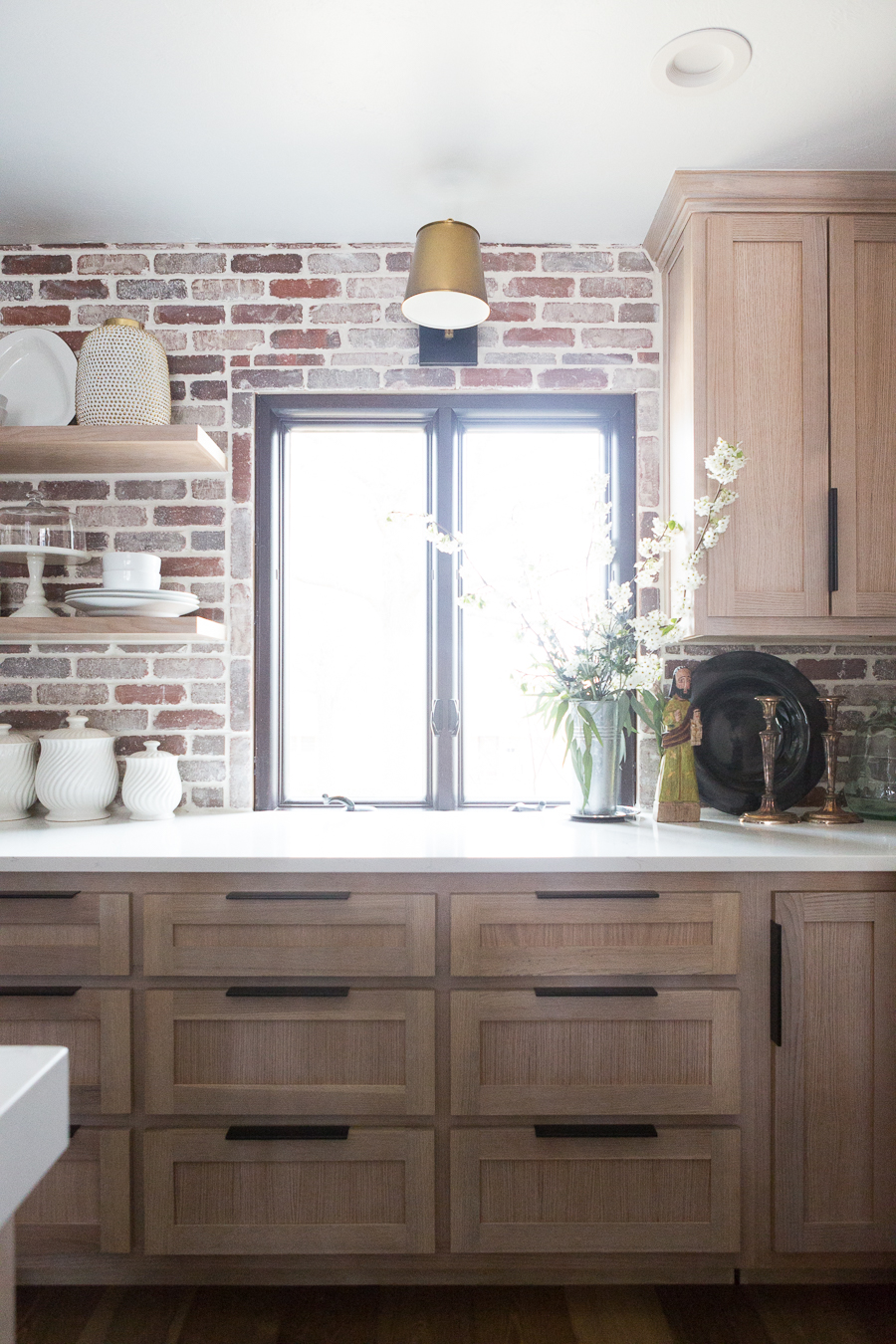 Click on the pictures below to shop these items from CC and Mike THE SHOP that was integral to the design of the Kane Remodel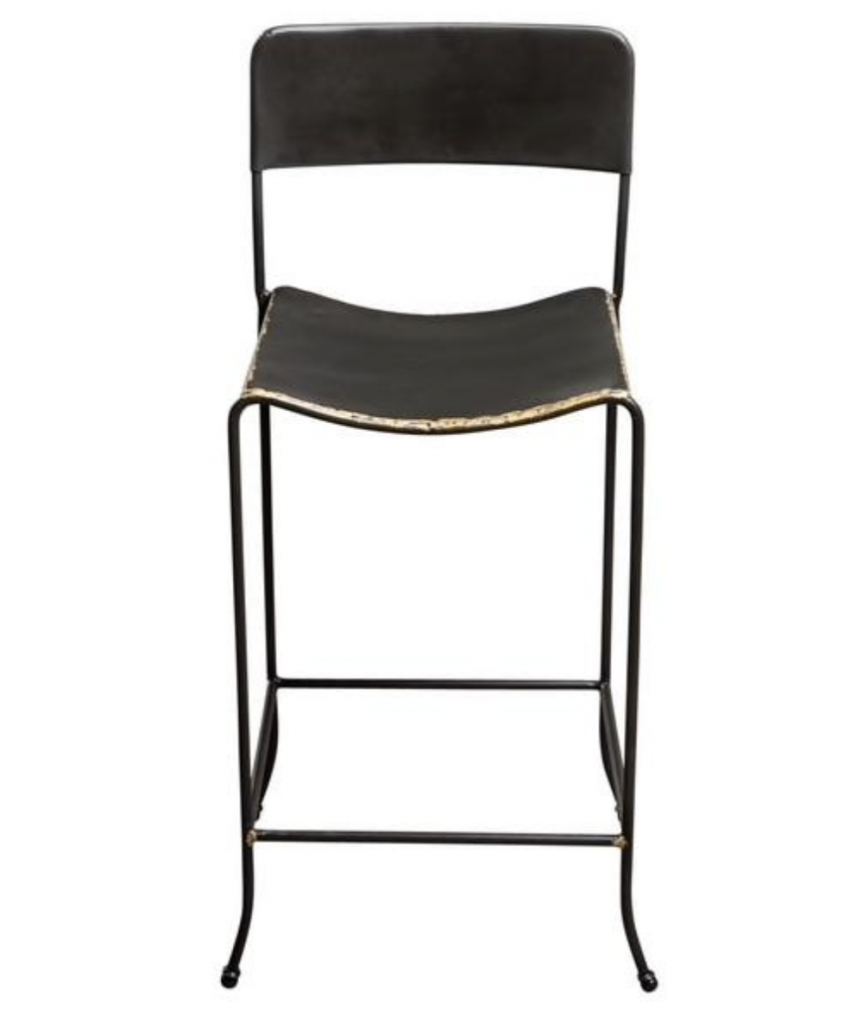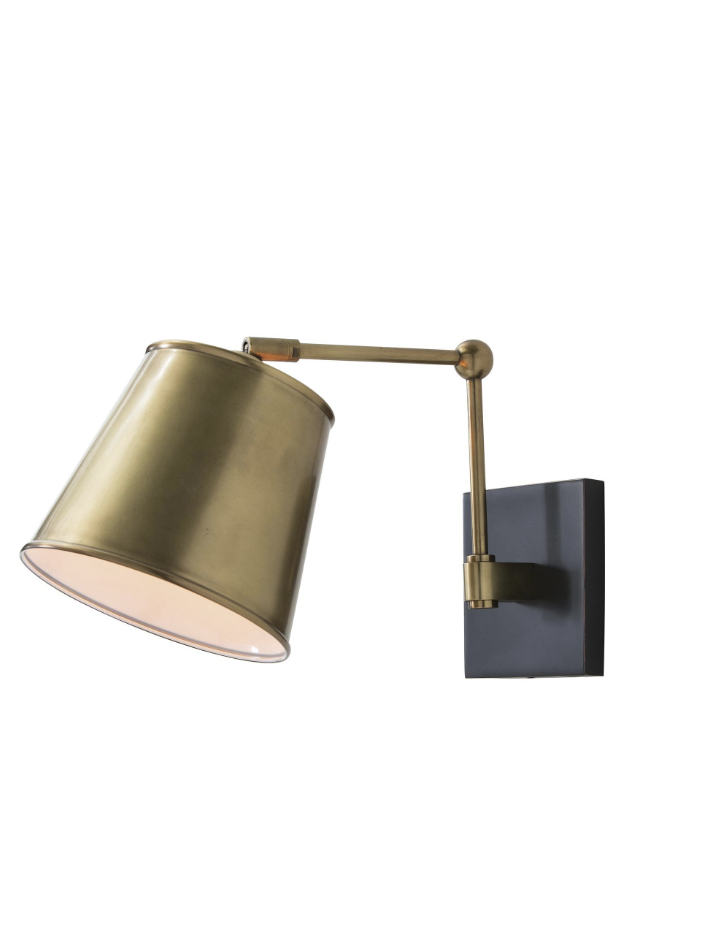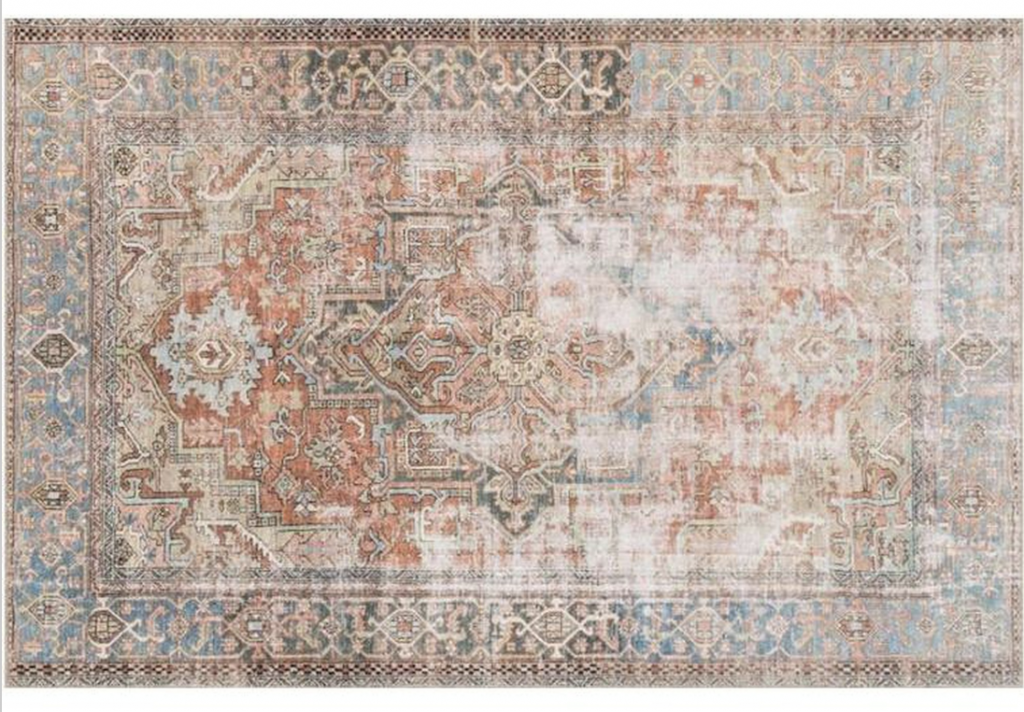 NEXT UP WE HAVE THE LIVING ROOM DESIGN AND REMODEL!
Our goals for the living room were three things: MORE LIGHT (this was a special request from Cyndi's husband), MORE COMFORT (their previous red leather couch was not a fan favorite in the Kane household because of lack of comfort), and just an overall fresh new look and design!  I encouraged Cyndi to consider a black statement wall to showcase her art and she went for the idea!  I'm so glad she did becaue we both love it.  Pro tip: It usually works out pretty nicely when a client trusts the designer even if it's a bit out of their comfort zone.  I know it's hard.  Trust me, I do! Cyndi has told me she was unsure about the idea of the black statement wall, but she trusted me and said let's go for it!  You will see for yourself how it turned out (spoiler alert: it's incredible) and we love how it just totally showcases all of Cyndi's beloved art collection!
HERE IS THE DESIGN BOARD I CREATED FOR THE KANE LIVING ROOM: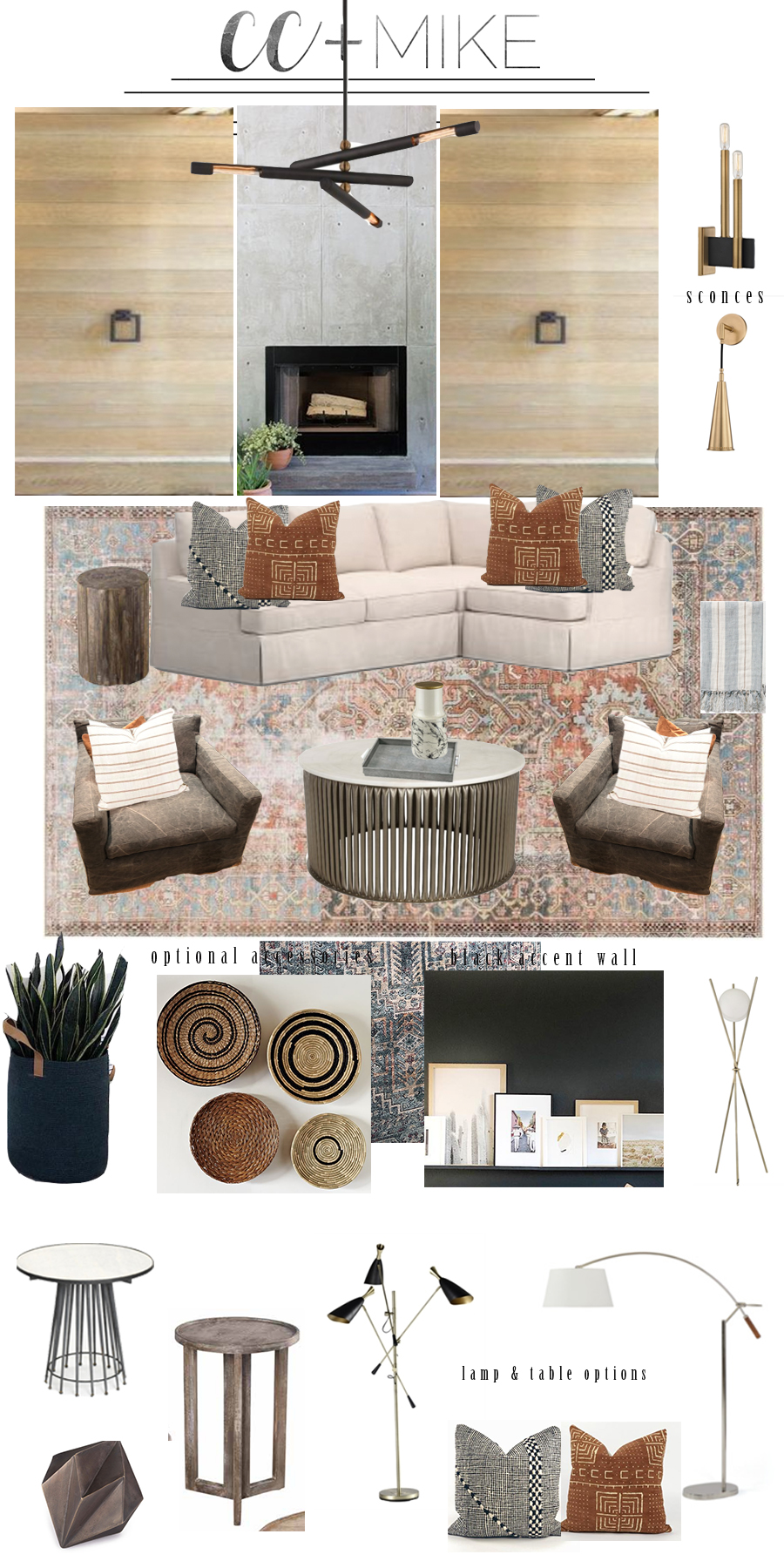 So now that you've seen what our road map was for the design of the living room, let's take a look at the…
BEFORE PICTURES OF THE KANE LIVING ROOM
DRUMROLL PLEASE….HERE ARE THE AFTER PICTURES OF THE KANE LIVING ROOM REMODEL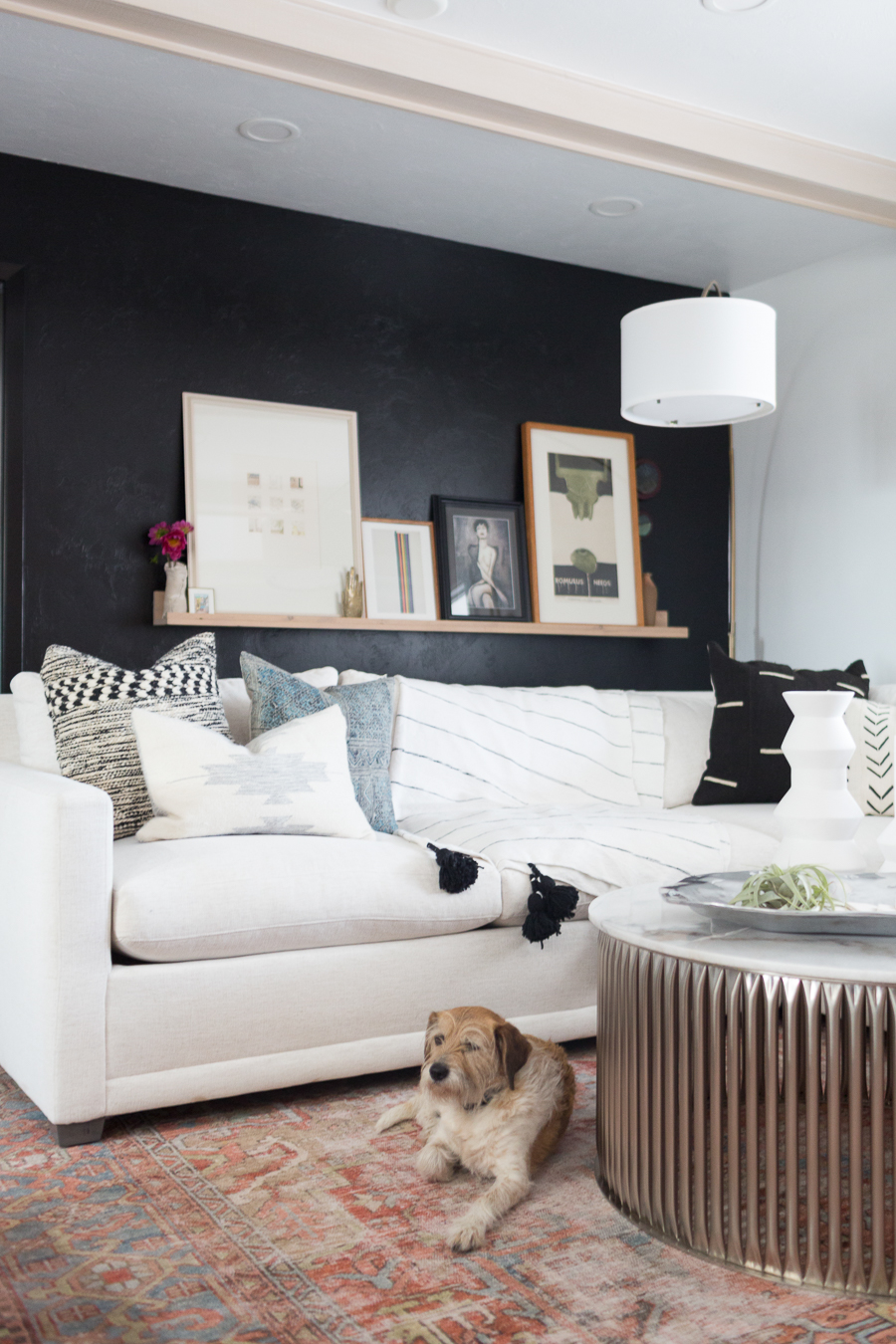 LIVING ROOM DETAILS
Loren rug | Lenox Coffee Table | Similar Sofa | Arc Floor Lamp | Pom Pom Throw  | Banks Swivel Chairs |
*Cute little doggie pictured not for sale.  So sorry everyone, he's taken by the Kane family!
ALL PILLOWS pictured are available in CC and Mike THE SHOP – | AMBA PILLOW | COOPER PILLOW | JAYA PILLOW | CHIANG PILLOW | ADILAH PILLOW |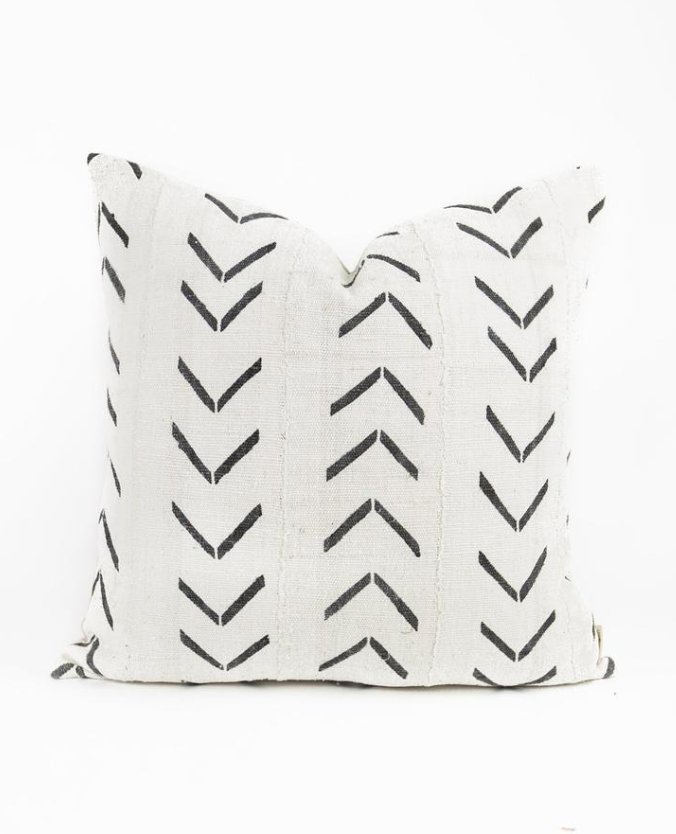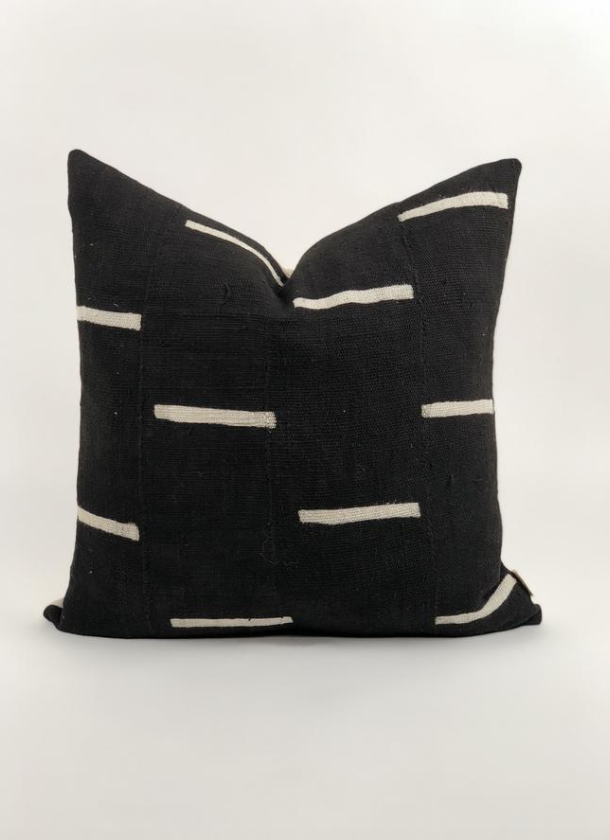 | AMBA PILLOW | COOPER PILLOW | JAYA PILLOW | CHIANG PILLOW | ADILAH PILLOW |
PAINT – Black Beauty (Benjamin Moore) and Decorator's White
If you like the statement that the Arc Floor Lamp makes, you might want to check out these floor lamps from CC and Mike THE SHOP as well.
Here are the West Elm accessories and pillows we used in the living room: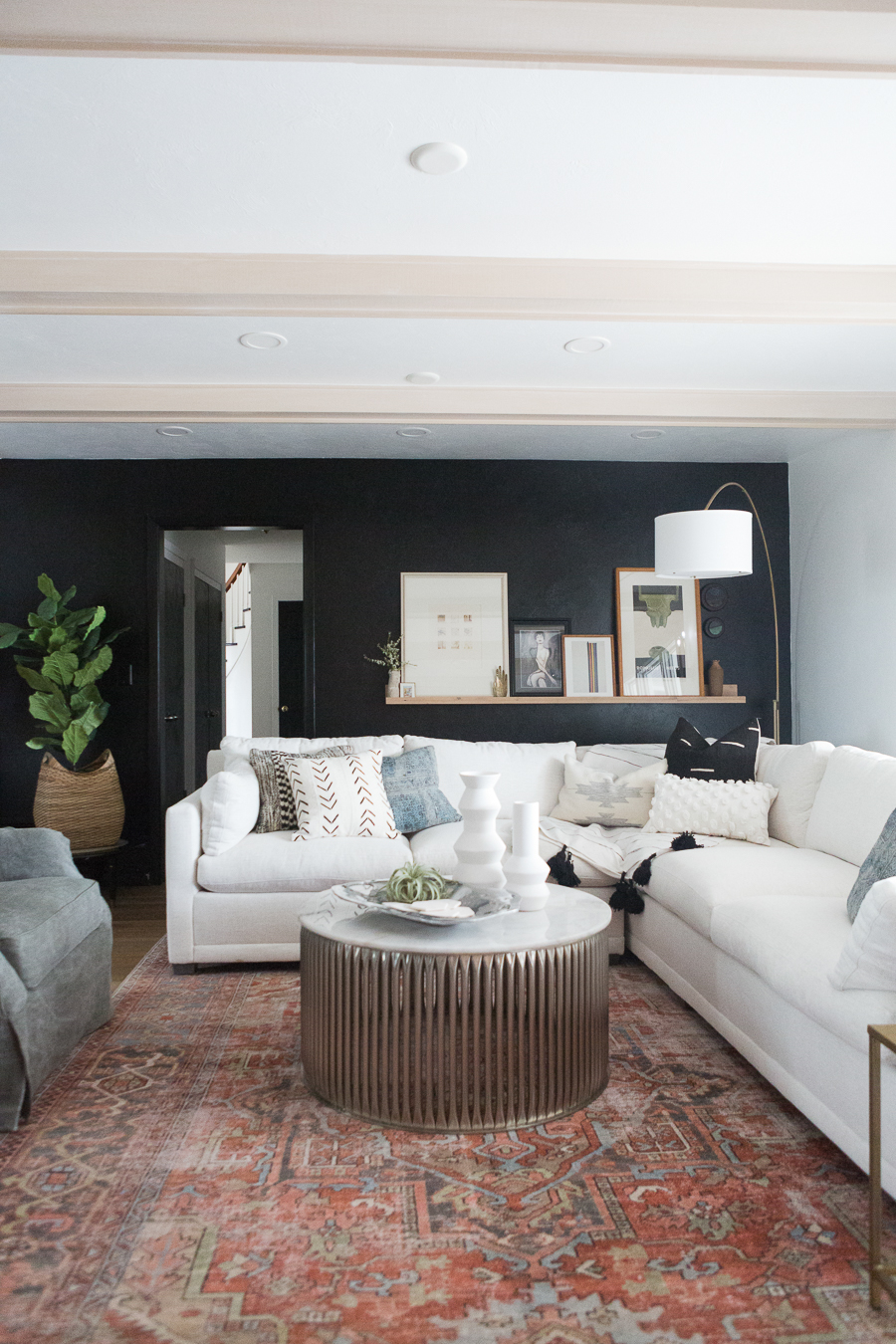 I seriously love what the Polaris Arc Floor Lamp adds to this space.  It just really wouldn't be the same without it.  You can buy this statement maker lamp for your own home right here!  Just click on the picture to buy from CC and Mike THE SHOP.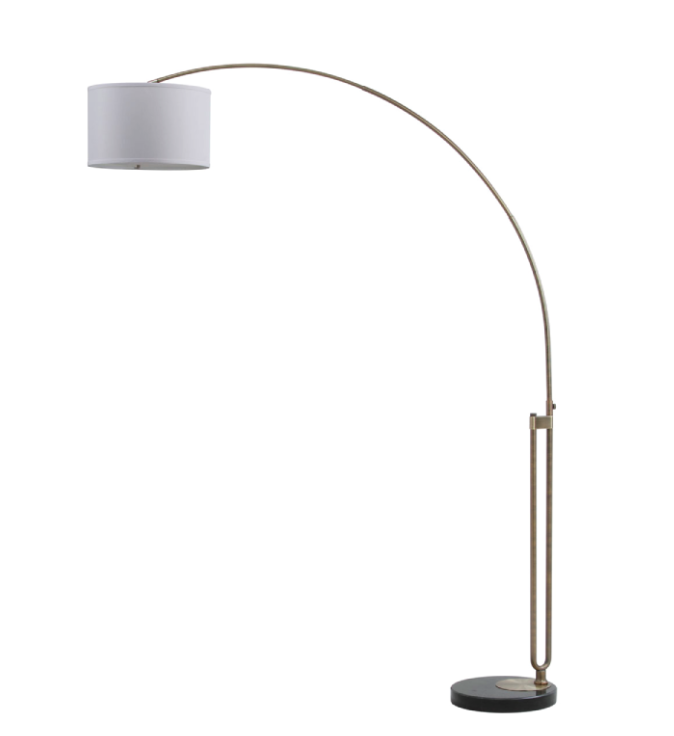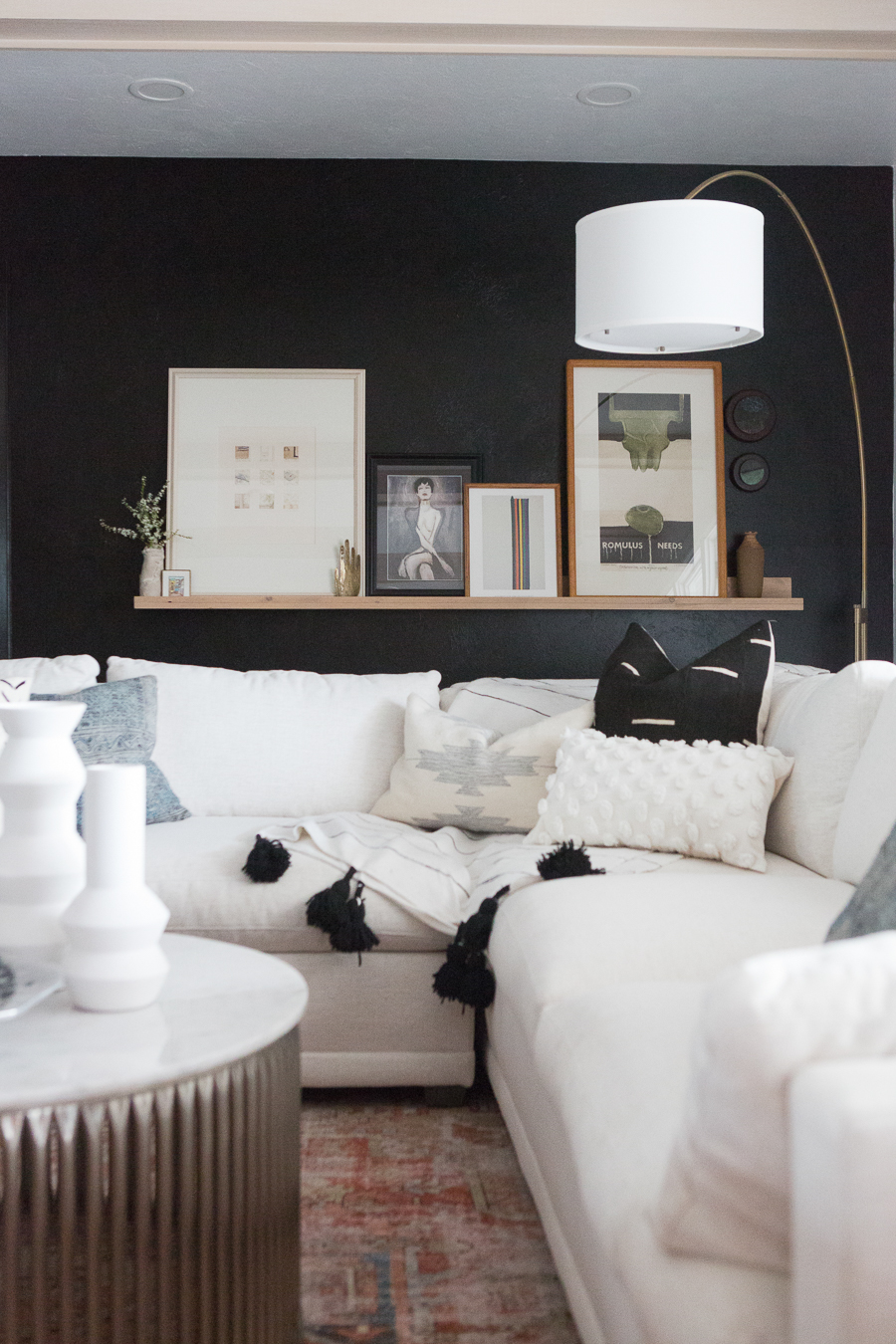 Another area we needed to focus on was the fireplace wall.  We ended up ripping out some tile that was on the Kane's fireplace and covering it with a stucco/cement type finish.  Then we painted the shelves black and had sliding barn doors made to cover the wall.  I absolutely love how it turned out!  The buffalo art above the fireplace was a custom piece by John Kane, Cyndi's husband.  If you are looking for similar art, we have a buffalo print available in CC and Mike THE SHOP!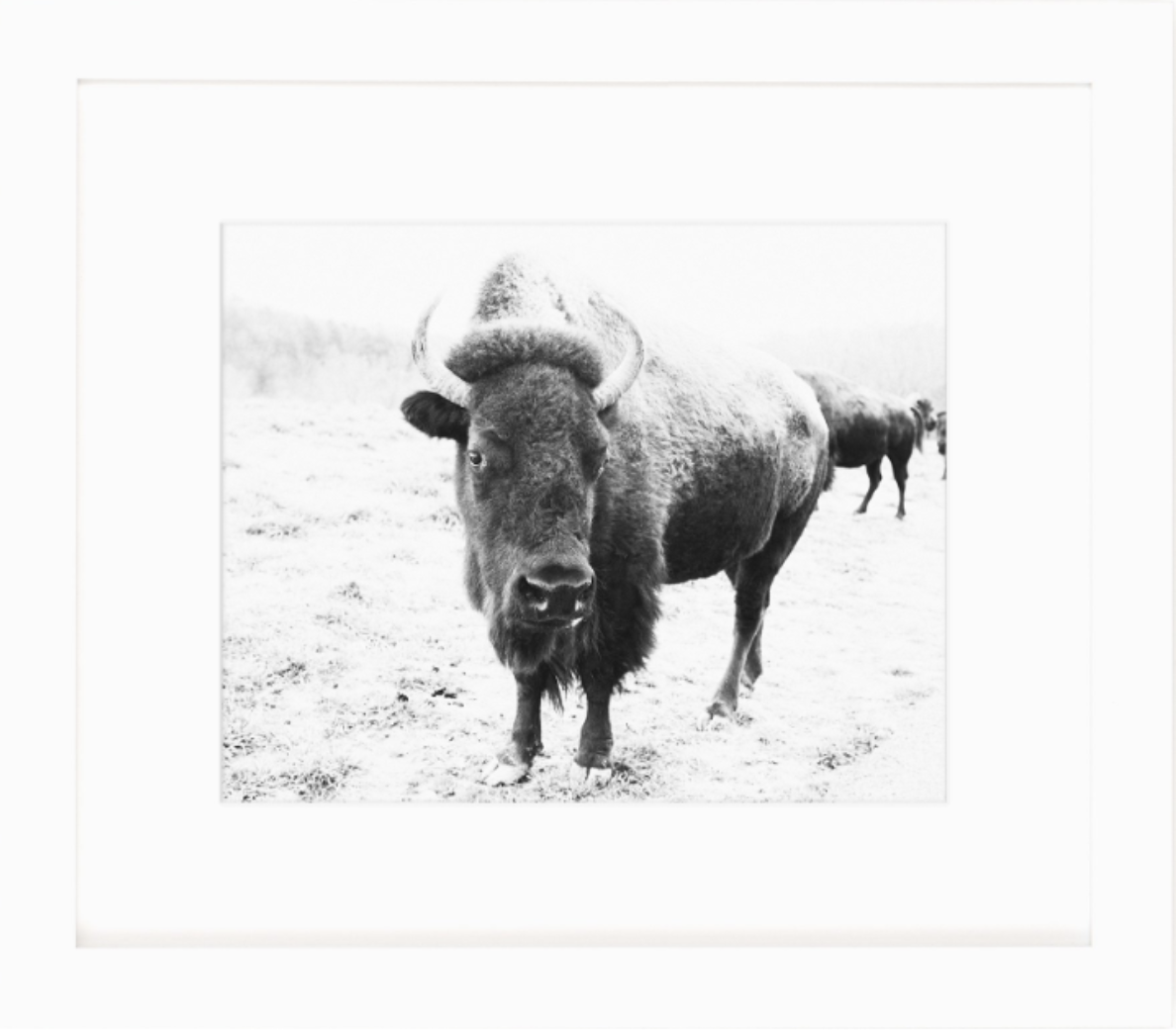 You can also shop the products we used from WEST ELM to style the shelves including baskets, vases, and book ends, here:
HERE IS THE BEFORE OF THE FIREPLACE WALL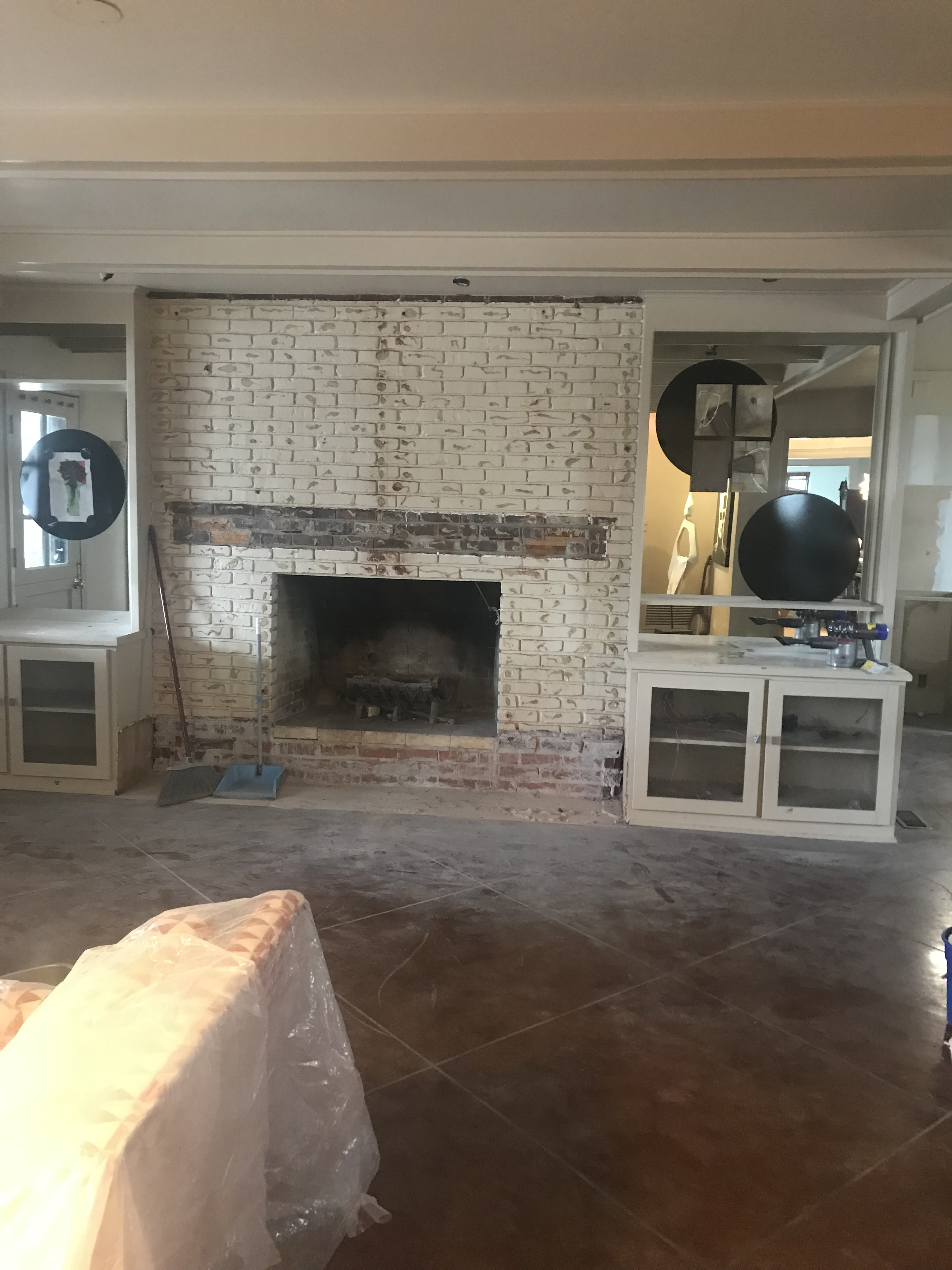 AND HERE IS THE AFTER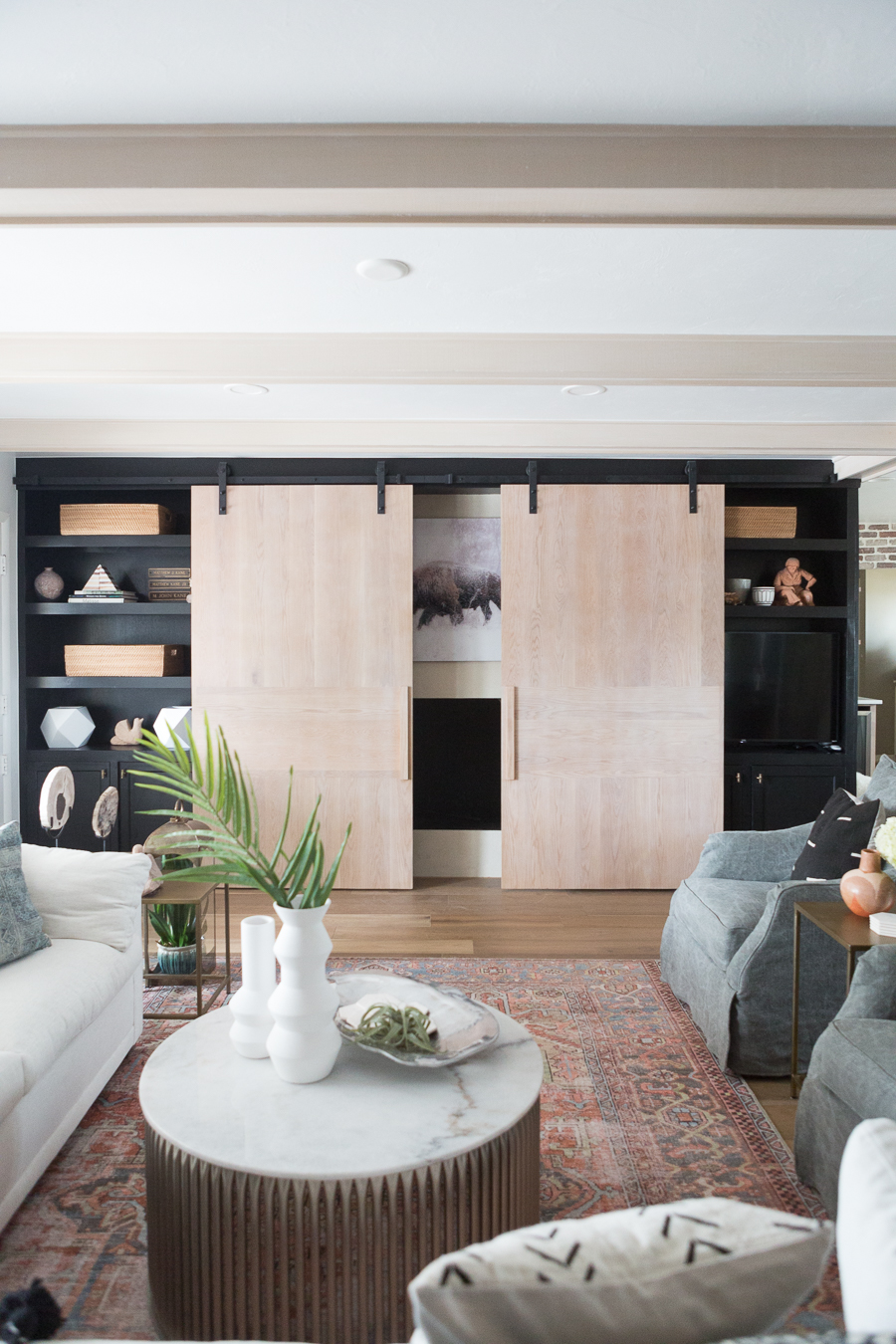 One of my absolute favorite moments of this remodel is when Cyndi brought out these three beautiful mandolins (pictured below) that her brother hand-made.  We were missing something on that back corner wall in the living room and I was trying to sort it out when I remembered Cyndi had told me about some mandolins her late brother had made for her.  To be honest, I didn't even know what a mandolin was but I asked her about them. She disappeared to another room and brought these three beautiful, hand-made wooden mandolins out with her.  And I literally gasped out loud. I knew they were perfect and they were meant to be on that corner wall.  We both were in tears when we hung them and saw how the perfectly completed the room.  I firmly believe that no room is complete without something meaningful —handmade, painted, or gifted to you by someone you love, etc..—in it.  The mandolins that Cyndi's brother made truly completed this room, don't you agree?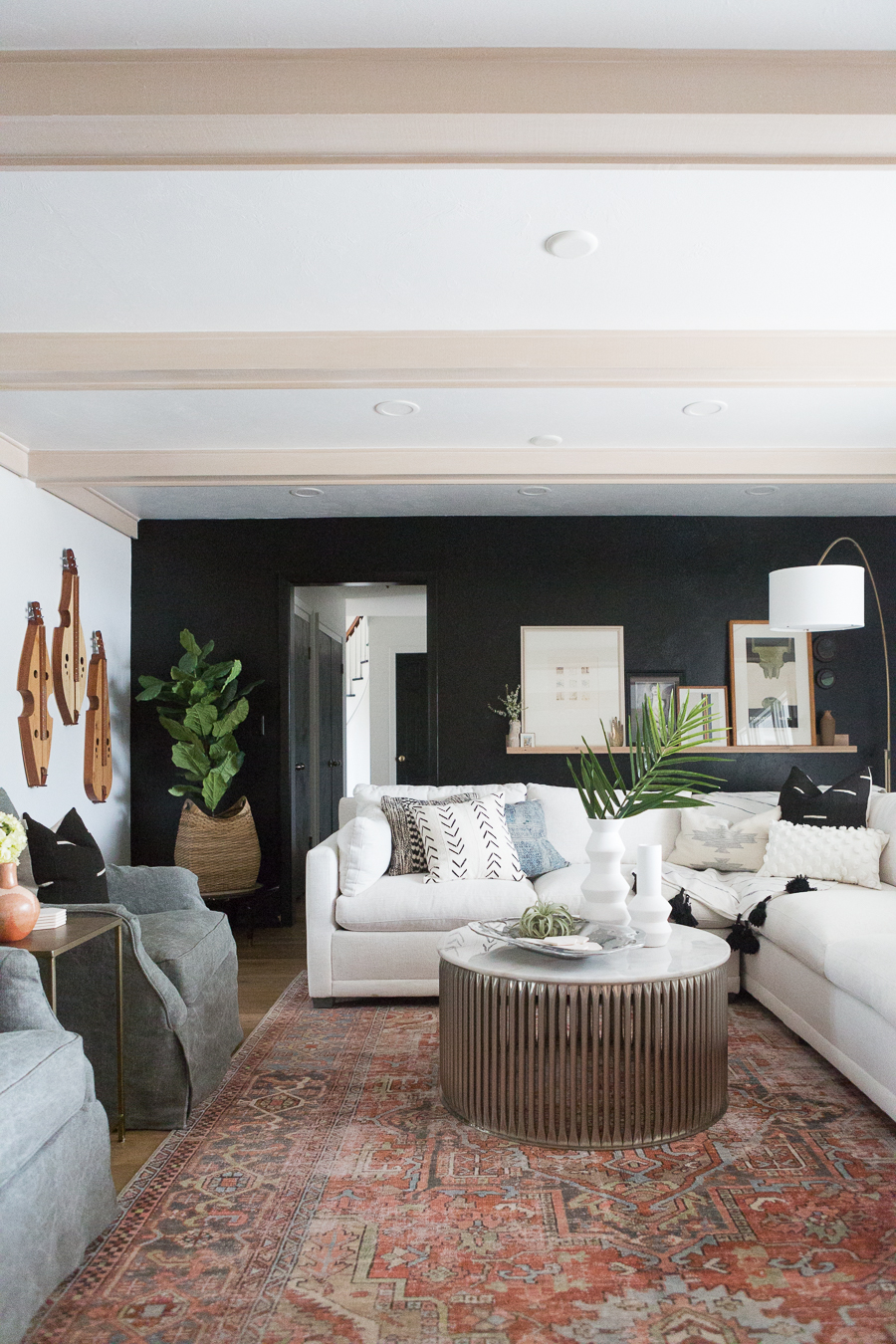 Another notable mention in this project are these gorgeous Abrams sconces, also from Hudson Valley Lighting.  HVL is always a dream to work with and we also recently used them for every light in our Jenks Flip House project which I can't wait to reveal soon.
SHOP HUDSON VALLEY LIGHTING &  ALL LIGHTING USED FROM CC AND MIKE THE SHOP HERE: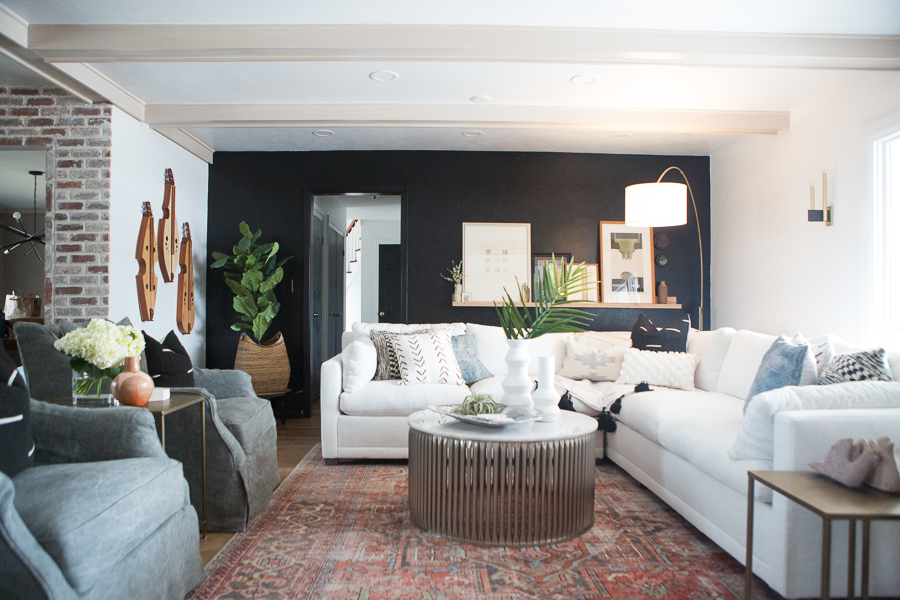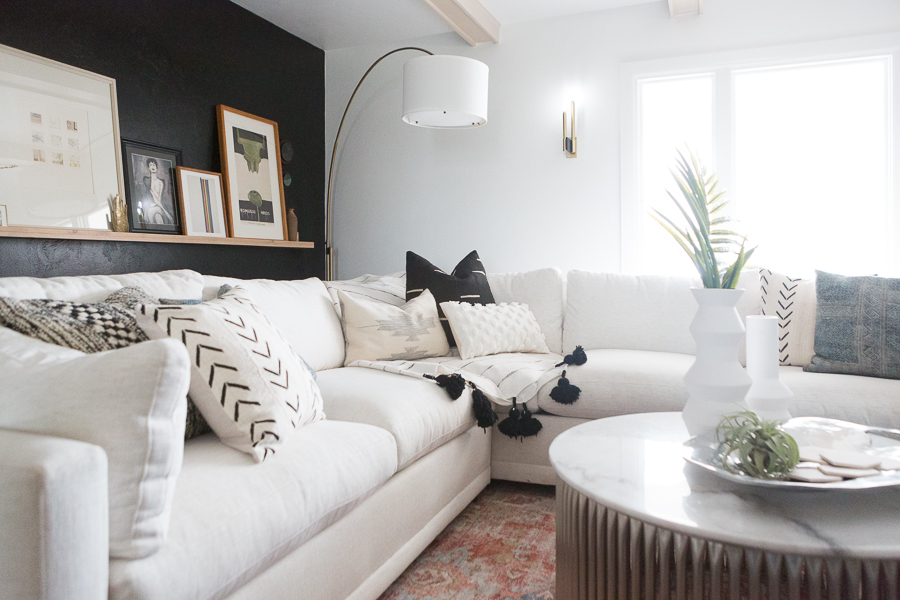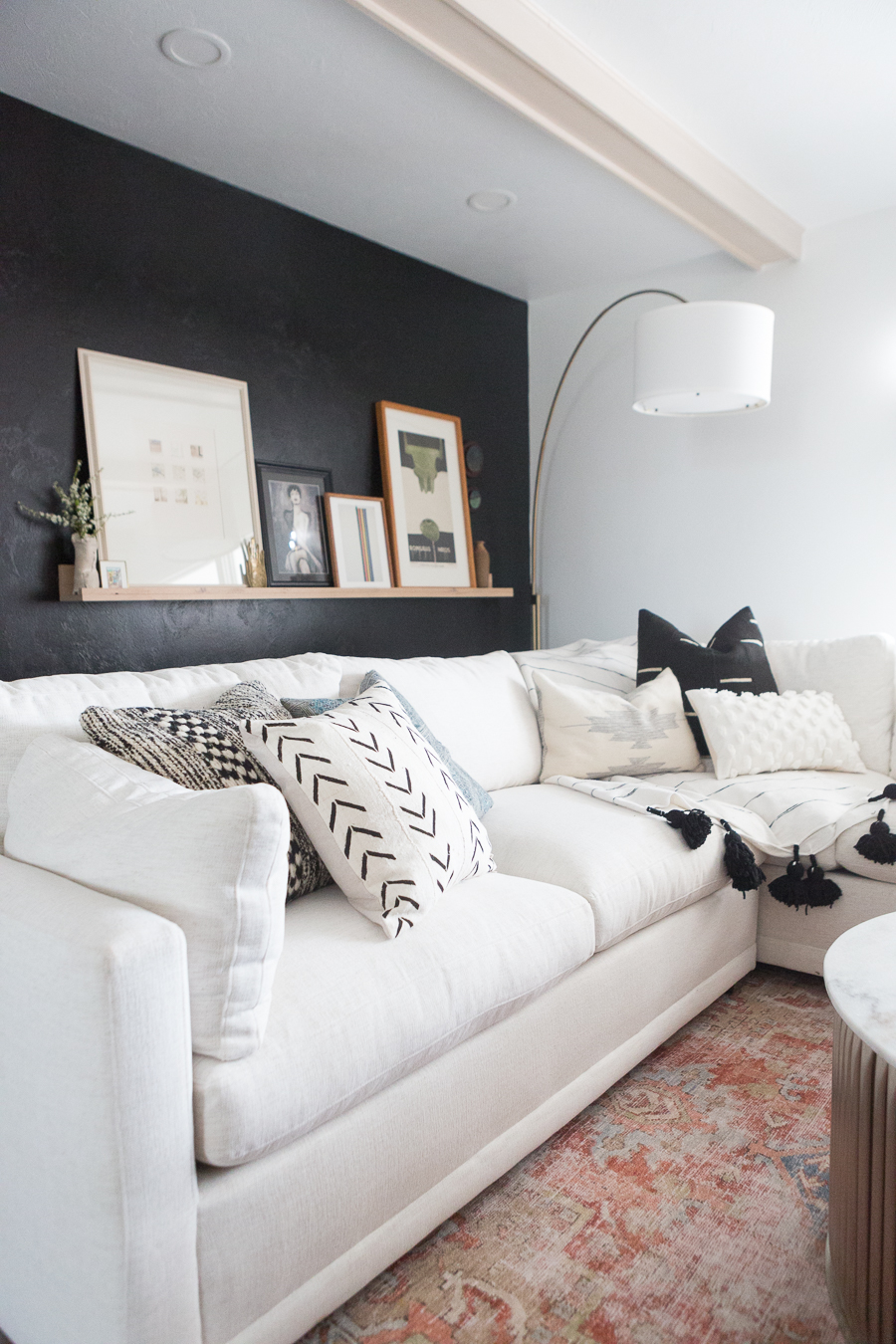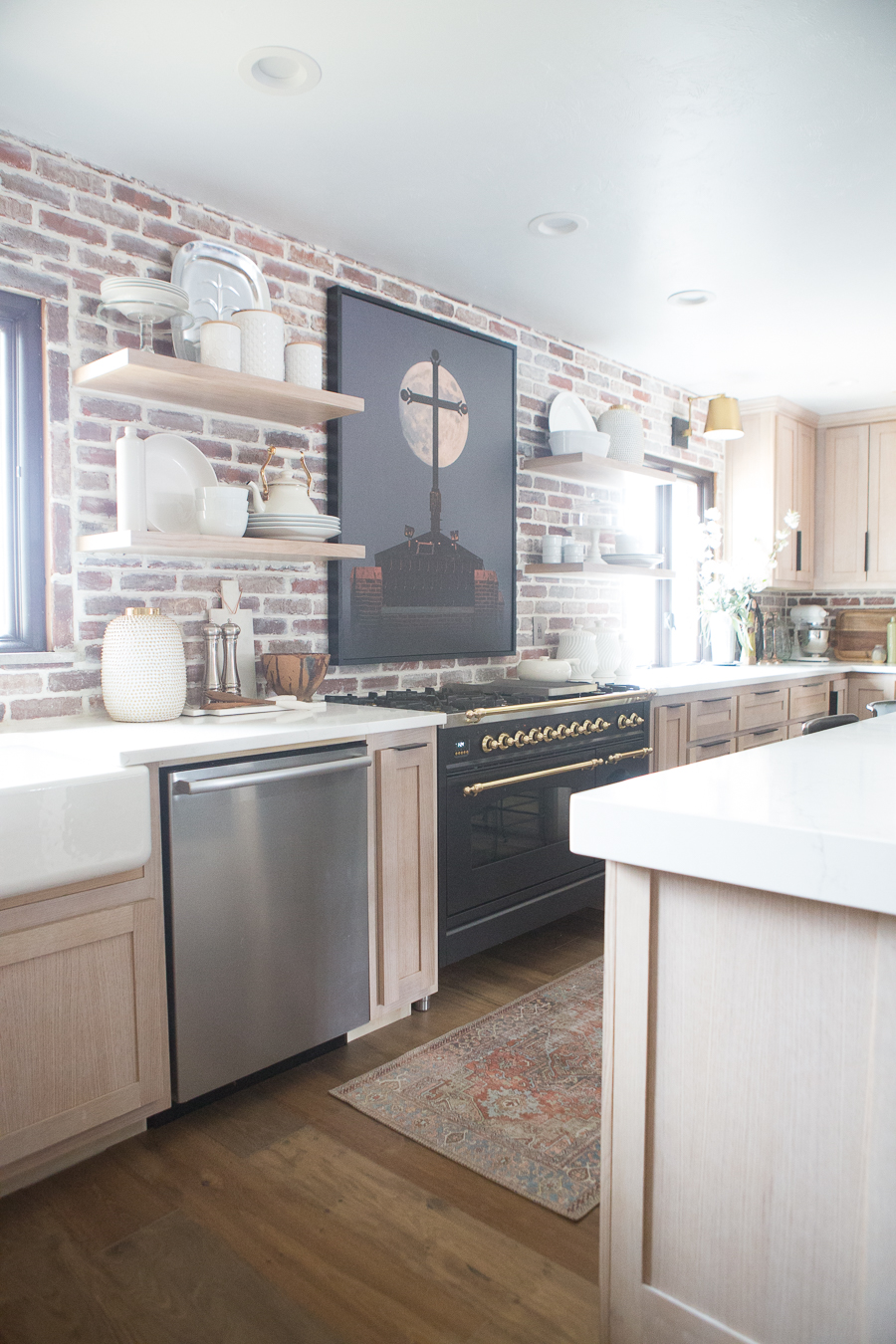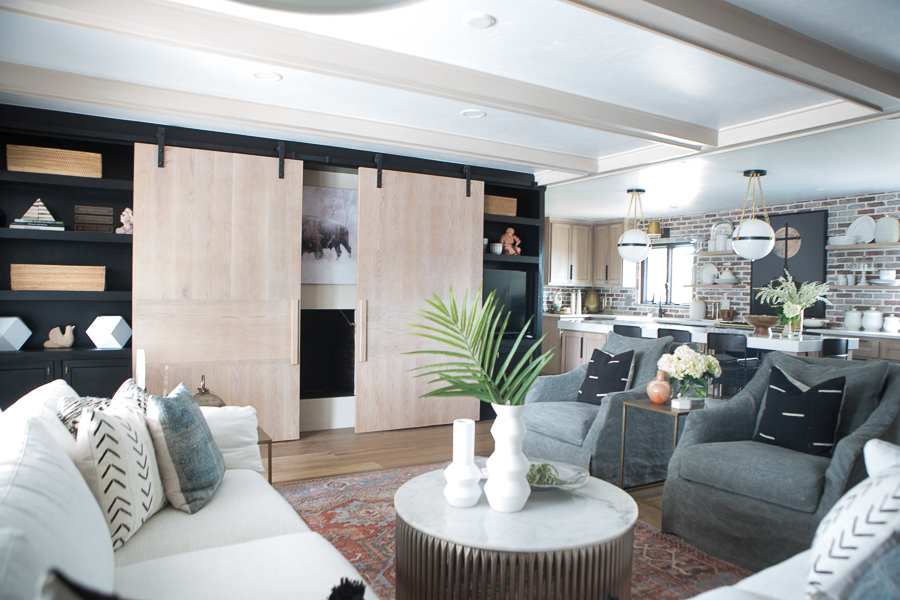 We hope you enjoyed the CC and Mike Kane Project Remodel Reveal!  We sure had a blast doing this project together and hope you find some inspiration for your own home!!  Follow along for our upcoming reveals: The FRISCO PROJECT, Meadow lark Project, Frisco II project, AND our Jenks house reveal!!  You can subscribe to our blog or follow along with us on Instagram  – CCANDMIKECREATIVE – for daily updates in our feed and Instagram stories!  Hope to see you there!
Here's me and my friend Cyndi.  She's the best.  No seriously, she's the best.  Love you CK.  Thanks for letting me be a part of this project with you and for trusting me even when I had crazy ideas like black statement walls.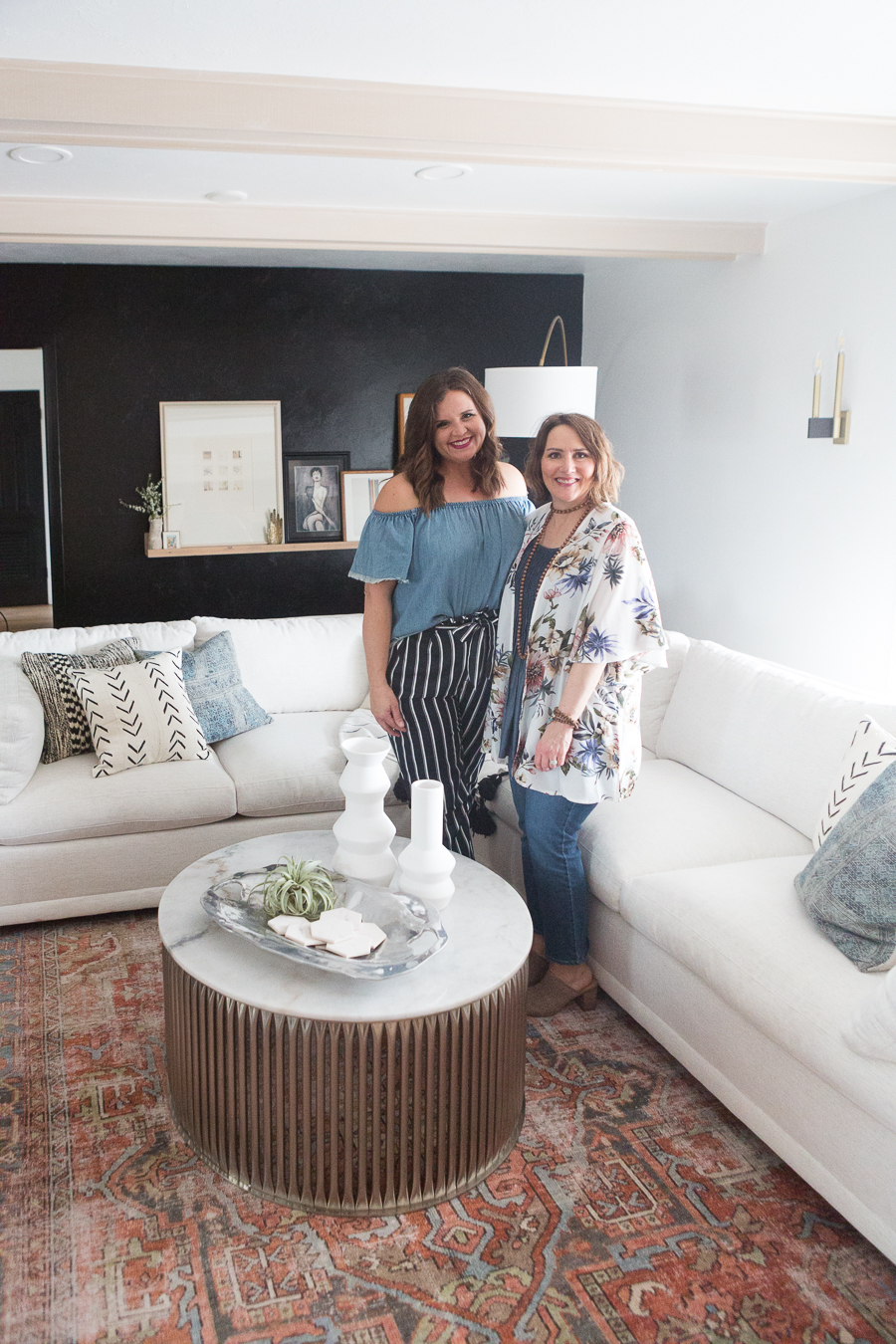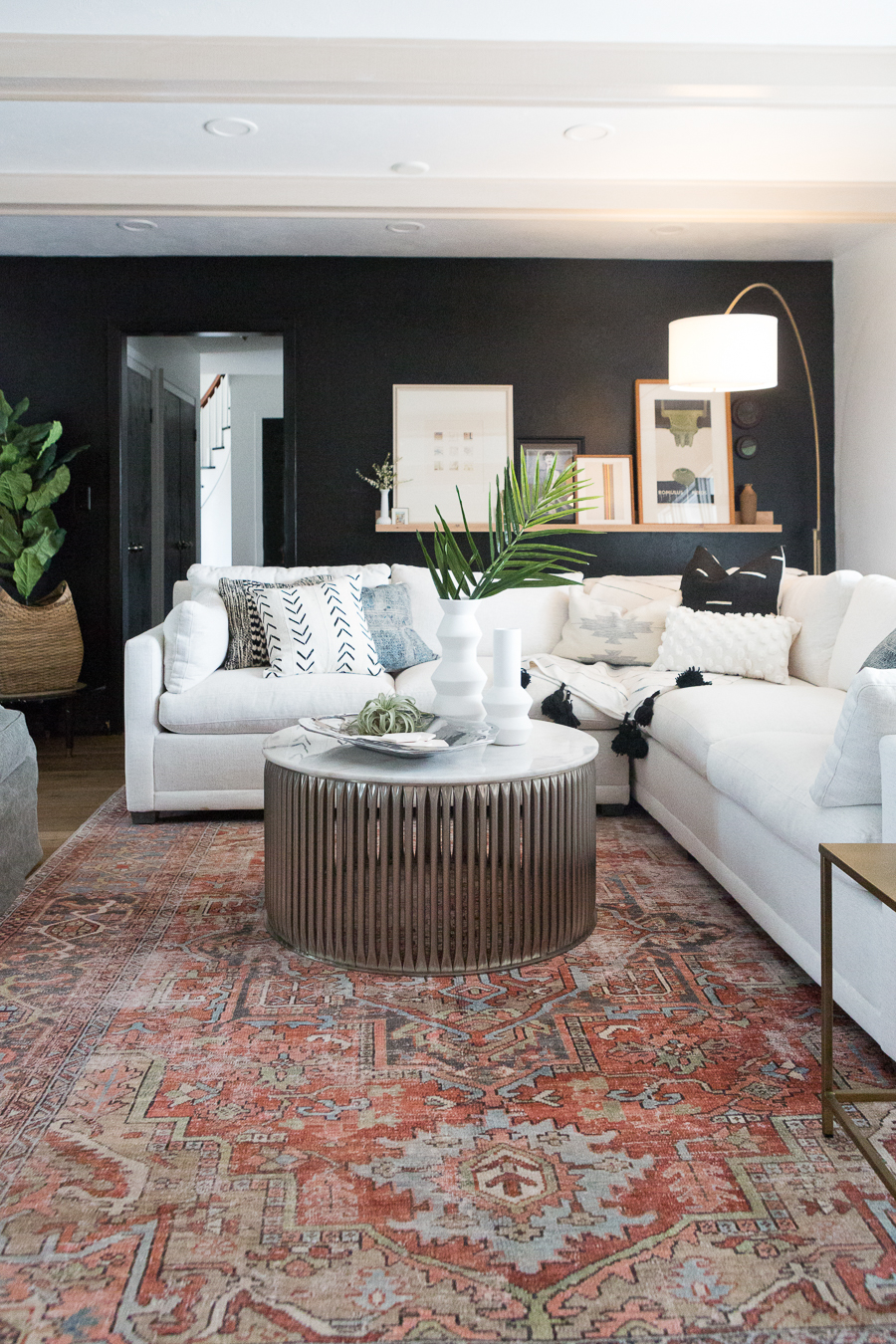 ---